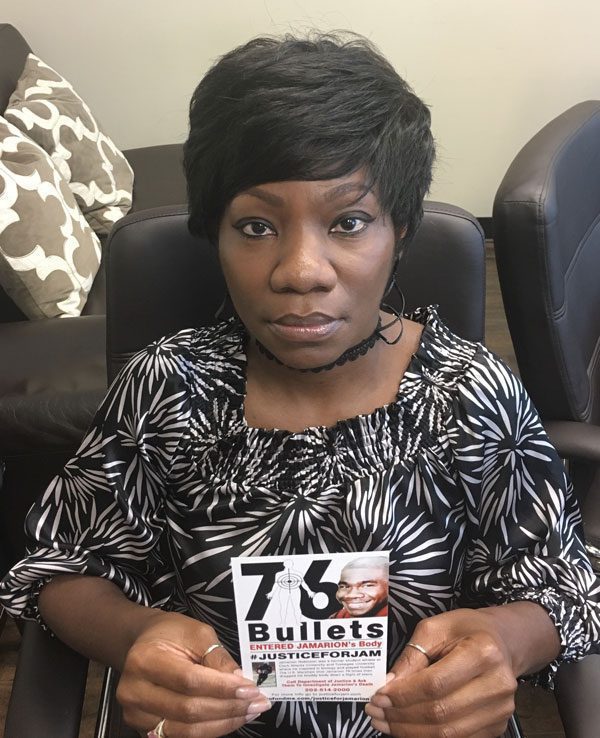 On August 5, 2017, Monteria Robinson will mark the one year anniversary of her son's death at the hands of US Marshalls. Jamarion Robinson was shot 76 times in what some have called an obscene display of excessive force by the three officers involved. The case is under investigation by the Georgia Bureau of Investigation (GBI) and the Fulton County District Attorney's Office. One year later, the officers involved in the shooting have not complied with a request for statements by the district attorney's office.
Rolling out spoke with Robinson about her son's death and her struggle for justice with community support.
Jamarion was not just another tragic tale; he was your son. How do you cope with his death one year later?
Actually, to me, it seems like it just happened yesterday. To be honest, I have not slept in two or three days. It's very horrific. The pain is very heavy. I'm very stressed. My anxiety level is high and that's just being honest. As a mother, it's like someone came and snatched my heart out of my body.
What were the last words you spoke with your son?
The conversation we had was about my nephew; it was at the time for his birthday. Jamarion was talking about what he was going to buy him for his birthday. That was the last conversation we had. We also were both watching "Family Feud." Every night around 7:30, he would call and say, "Momma, 'Family Feud' is about to come on so get ready." We would always laugh and talk about Steve Harvey's jokes.
What did he dream of doing upon his graduation from college?
He was a biology major. The last thing he texted me was on August 3, 2017, where he said, "Hey, mom, I just finished the registration for Tuskegee University," which would have been for his last semester …
How are you protecting your son's image?
As we all know, the media tries to dehumanize our young Black men. We see every day on the news how they can de-escalate situations when it comes to White Americans, but when it comes to dark skin tones or Black Americans, they [claim they are] in a fear for their lives. How can they be in fear of their lives when it comes to us, but can de-escalate when it comes to their own? I would like to state for the record that we are US citizens. I pay taxes. I work and so does my family. But my son was treated inhumanly and un-American.
You contacted the FBI and the U.S. Attorney General's Office in the case of your son. Have you heard anything back?
[Family attorney Mawuli Davis]: No. They have left it in the hands of the GBI and the Fulton County District Attorney's Office. What we are hoping for at this point is that the Federal Agents and US Marshalls involved will comply and provide all information and evidence related to the case. It is unbelievable that they would not, in executing a warrant, wear body cameras. It is completely illogical that at the federal level, not to wear body cameras when conducting these operations to be completely above reproach. We can all see what has been happening across the country.
Most recently, President Donald Trump made comments that seemed to encourage police abuse against suspects. When you hear something like that coming from the President, what comes to mind?
It perpetuates the culture of accepting police violence. Also, I would add I have been coping with community help and ongoing support. It has been keeping me strong. I plead with the community to join us this Saturday, August 5, 2017, to help us get answers for my son. We are requesting transparency for all those involved.
What would you like to say to families who may be going through the trauma of a police shooting?
Seek counseling. Get community support; you can't do this alone; you need community support to get through the situation. My family and I struggle every day with this and community support is essential.
To support, attend:
Justice for Jamarion Robinson- Community Rally & March
Saturday, August 5, 2017
Fulton County Courthouse
136 Pryor Street SW,  Atlanta, GA, 30303
For more information visit:  https://www.gofundme.com/justiceforjamarion