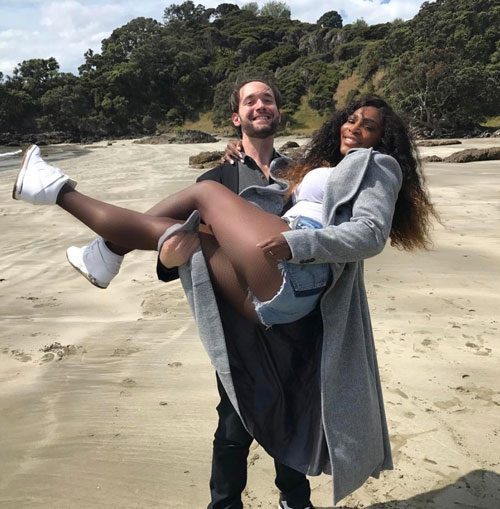 Serena Williams opens up about impending motherhood.
The tennis star, who recently celebrated the upcoming birth of her first child with her fiancé Reddit founder Alexis Ohanian with a '50s-themed baby shower, got candid with Australian magazine Stellar, revealing that she hasn't spent much time around babies and watching birthing videos has been anything but helpful while preparing to give birth.
"I have so much respect for so many women [for giving birth]," she said. "I am about to be a real woman now, you know? It's going to be something incredibly impressive to go through," continued the 35-year-old athlete.
"I don't think watching birthing videos helps," added Williams. "I actually think it makes it worse. Having a baby, nothing is guaranteed."
Williams also confessed she's terrified about how motherhood will affect her career. "That's the scariest thing," she said, later noting that she fully intends to compete in the Australian Open in January. "[But] I think [giving birth] will give me more strength, if that's possible, and a lot more confidence. I feel like I will be ready for anything."
As for how papa Ohanian is preparing for fatherhood, Williams, who is due in early September, shared he's readying to take a "Daddy's class," while she herself could use some lessons. "I have never been around babies," she confessed. "I need a Baby 101 class — they don't have one for the women! He'll probably know more [than me] after his four-hour course."
Meanwhile, it appears that Williams sees big things for her child's future, revealing that she'd be proud and super supportive if her mini me followed in her famous footsteps.
"Whatever they want to do, they can do," Williams said. "If they want to be a piano player, I'm here to support them. I'm not going to say, 'You have to play tennis.' I wouldn't even put a tennis racket in their hand. That may be a little bit of pressure. What they want to do is up to them."
In case you missed it, on Saturday, the 23-time Grand Slam champion hosted a throwback baby shower with sister Venus, new mom Ciara, actress Eva Longoria, La La Anthony and Destiny's Child alum Kelly Rowland.
"O' Baby!! Love You Rena. Truly an Exciting Time! #Memories. #ShakeRattleRoll2017," shared Ciara via Instagram, alongside an adorable photo featuring Williams and her posse perfectly placed in front of a cherry red truck, dressed in retro gear featuring pink poodles, polka dots and bright pops of color.