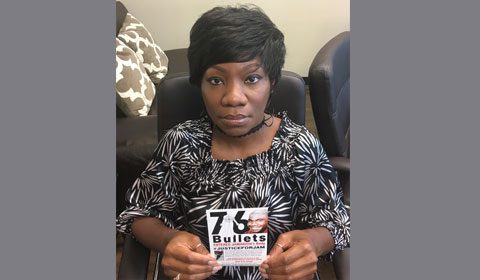 The pain of a mother who raised her child by herself to know the police shoot him down is an emotion that Monteria Robinson is experiencing. Her son Jamarion Robinson was killed by US Marshalls in August 2016. He was shot 76 times by the Marshalls who were working with the Metro Atlanta Fugitive Taskforce. Jamarion was wanted in both Atlanta and Gwinnett County, Georgia for two incidents that occurred and police were heavily armed when they arrived at his girlfriend's apartment.
Monteria Robinson wants the world to see her son's dead body that is riddled with bullets from officers' guns.
She stated to rolling out, "Every day on the news how they can de-escalate situations when it comes to White Americans, but when it comes to dark skin tones or Black Americans, they [claim they are] in a fear for their lives. How can they be in fear of their lives when it comes to us, but can de-escalate when it comes to their own? I would like to state for the record that we are US citizens. I pay taxes. I work and so does my family. But my son was treated inhumanly and un-American."
Rolling out was given a copy of the medical examiners report as well as autopsy photos of Jamarion Robinson's body. It is important for people to see the results of excessive use of force by police.
WARNING: THE IMAGES AFTER THE BREAK ARE GRAPHIC AND NOT SAFE FOR OPENING AT WORK: