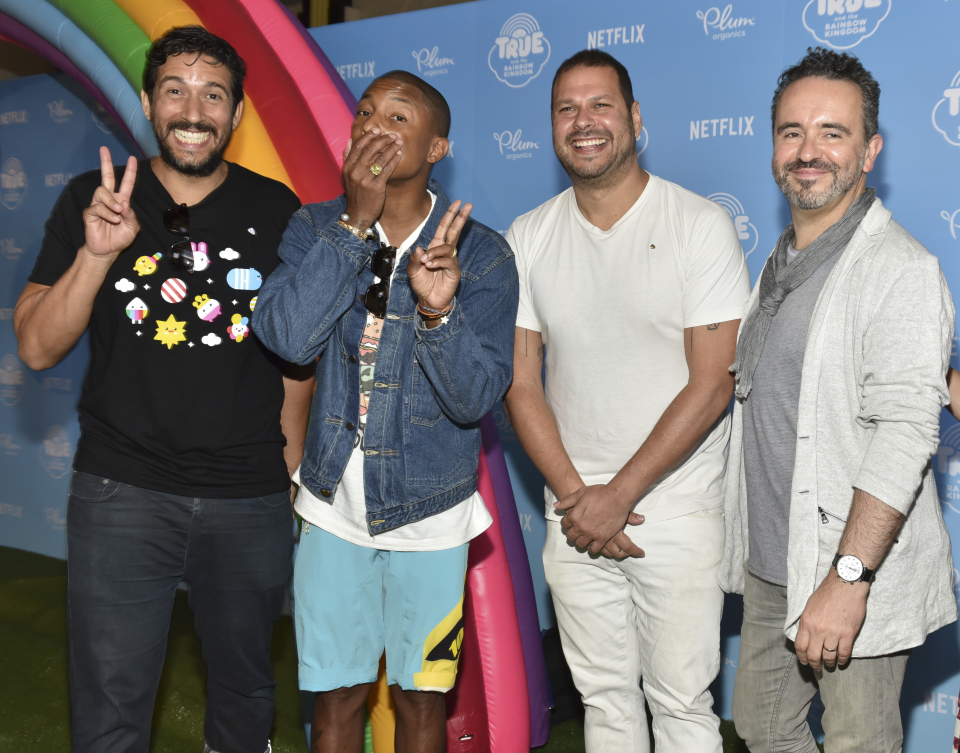 The Pharrell Williams' executive-produced "True and the Rainbow Kingdom" debuts exclusively on Netflix on Friday, August 11. "True and the Rainbow Kingdom: is a fun-filled CGI preschool series inspired by Samuel Borkson and Arturo Sandoval III's FriendsWithYou, a fine art collective that fuses minimalism with the aesthetic of pop art, promoting "magic, luck and friendship."
Showcased around the world, the artists work in a variety of mediums including painting, sculpture, large-scale experiential installations, live performances, animation, and more recently, virtual reality.
Williams signed on as executive producer once he watched the first episodes of the series as it embodies two passion areas for him. Williams has a long-standing relationship with fine art and the toy world.
Who is True? What is the Rainbow Kingdom?
Whenever there's a problem in the wondrous world of the Rainbow Kingdom, there's one person everyone can count on to save the day… True! True and the Rainbow Kingdom follows an intelligent and fearless heroine, 8-year-old True, and her hilarious best friend Bartleby the cat, as they solve problems in Rainbow City and come to the rescue of its whimsical citizens. True is the only one that can unleash the power of the Magical Wishes from the Wishing Tree in order to restore peace and love in the Kingdom. True and Bartleby's 22 minute adventures are packed with comedy that will delight and empower girls and boys around the world!This fun-filled CGI preschool series is produced by Guru Studio, in collaboration with Pharrell Williams' i am OTHER, world-renowned artist collective, FriendsWithYou, and Home Plate Entertainment.

True and the Rainbow Kingdom will entertain children with engaging characters and fun adventures. The vibrant designs and magical storylines will inspire children to expand their imaginations and push their creativity. True is a contemporary aspirational role-model who displays confidence, determination and mindfulness through effective communication and creative problem-solving. True teaches empathy for our world and all its living creatures.
Children and families attended and L.A. sneak peek screening at the Pacific Theaters at The Grove while enjoying organic healthy snacks by Plum Organics, fun kids accessories from FabKids, and engaged in True and The Rainbow Kingdom interactive show elements and customized activities created by FriendsWithYou and Guru Studio such as show characters in costume and a giant inflatable rainbow!
Who was spotted: Executive producer Pharrell Williams, co-creators Arturo Sandoval III, Samuel Borkson, and Bill Schultz, Frank Falcone, President and Creative Director of Guru Studio, music artist Kelly Rowland, music artist + actress Christina Milian, music artist Tyga, Ally Hilfiger (author), Skeet Ulrich ("Riverdale"), Jessica Hall ("Kendra on Top"), Casey Loza ("Audrina"), Julie Solomon, Apryl Jones ("Love and Hip Hop"), Diana Madison (Amazon Prime's "Style Lab"), Amy Davidson ("8 Simple Rules" and "Battle Scars"), Caroline D'Amore (DJ), Ryan Ochoa ("iCarly"), Jax Malcolm ("Crazy Ex-Girlfriend"), Zooey Miyoshi (Zooey in the City Blog), Bella and Chloe Abir (The Royal Twins Blog).