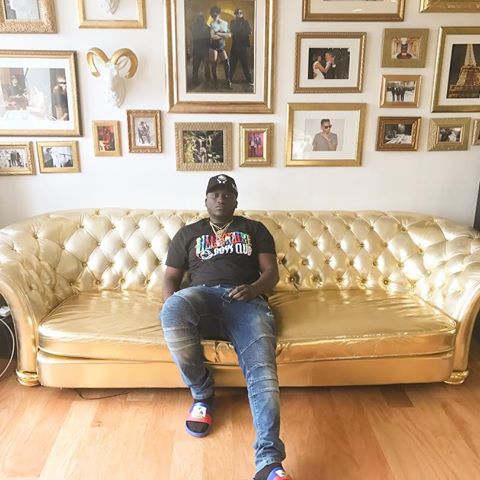 Behind every great artist, there's a team that works day in and day out to make sure everything runs smoothly. We see it all in the time in key figures in hip-hop such as Harvey Pierre (president of Bad Boy Records), Paul Rosenberg (Eminem's manager), and Ibrahim Hamad (J. Cole's manager and president of Dreamville Records). These guys play the background, but they're the brains behind the brand. Meet the team behind one of hip-hop's biggest artists, Miami's own Zoey Dollaz: Dizzy (manager), Kisha Scott (publicity), and Zoey Dollaz (artist).
Dizzy, did you have any formal experience with management prior to your partnership with Zoey Dollaz?
Dizzy: Yes, I did. I came from a long line of management mentorship by my partner Byron Trice, who used to manage Plies. I was also mentored by E-Class, who founded Poeboy Records and used to manage Rick Ross. I managed a few acts before Zoey Dollaz, one of which was Bobby Shmurda.
Being a manager is a full-time job. Not only does it entail handling all the artist's affairs within music, but it also includes dealing with personal situations. How have you been able to transition between both elements?
Dizzy: Everything has to be personal. Business is the business but if you really believe in your artist, you're going to have to get personal with them. When you're going through the trenches with them, you might have to do things that you don't normally do. You might have to get your hands dirty in order to get the job done, but it's necessary.
Managers lead a very hectic lifestyle. What does balance look like for you, being that you manage such a high-profile artist?
Dizzy: I'm still trying to work on my balance. I'm married and have kids, too. My kids don't get to spend a lot of time with me but I'm working hard now so that I can ensure that their college tuition is paid for. It's a sacrifice, but I'm choosing to do the right thing versus all the wrong things that are out there in the world. I love the fact that I'm involved in changing people's lives and making something out of nothing. That's the legacy I want to leave behind.
You, along with Kisha Scott, built the Zoey Dollaz brand campaign and social media presence from the ground up. Is there a higher appreciation for everything that's occurring now, knowing that you guys didn't take any shortcuts?
Dizzy: Yes. We didn't take any shortcuts. We got it from the muscle. We both had to make tons of calls and build tons of relationships with bloggers and media outlets just to get the social media presence you see today. It takes a grind and that's exactly what we did.
Kisha, people tend to be misinformed about the area of public relations in music nowadays. Can you talk about the importance of your role in Zoey Dollaz's career?
Kisha: The most important role is making sure media outlets are covering Zoey's music, building a relationship with him, and feeling a part of his musical journey. So, I'm making sure this happens on a daily basis. This wasn't overnight; he's been consistently putting out music for a few years now.
What's one unique aspect that sets Zoey Dollaz apart from any other artist in hip-hop currently?
Kisha: His hustle. He never stops.
Zoey Dollaz, what does having a solid foundation do for you in terms of your time, and energy in your career?
Zoey Dollaz: A solid foundation will propel me to higher levels and allow me to maximize my time in anything I involve myself with.
Even though you have a machine behind you, how important is it for you to constantly brand yourself on social media?
Zoey Dollaz: Branding is crucial in regards to setting my career up for the long run. I love and enjoy promoting myself on social media. I'll always continue to do so.
Check out Zoey Dollaz's new project, M'ap Boule, on Spotify.