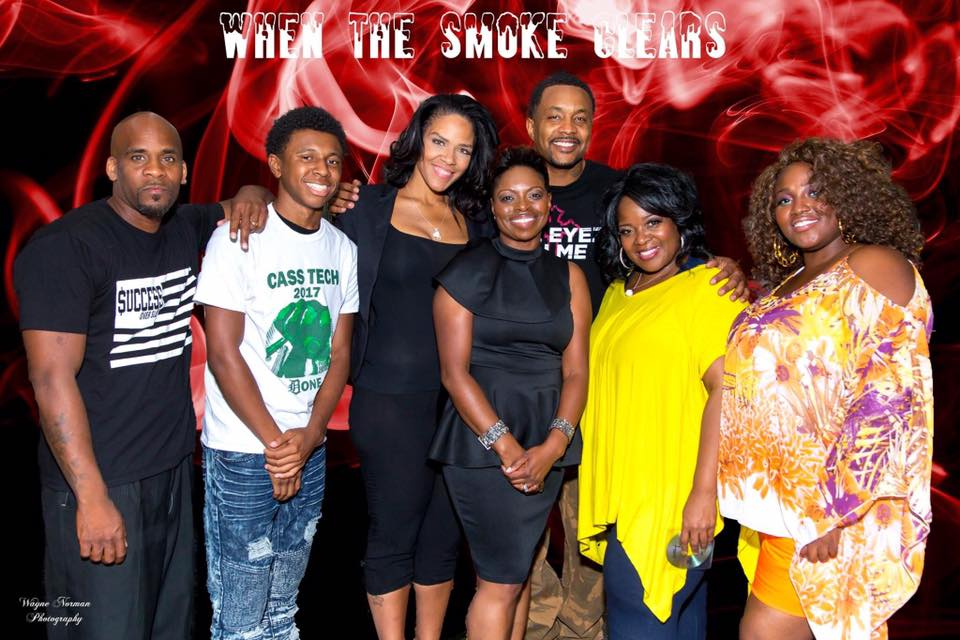 Mike Jeffers, John Williams, Kristen Marie Peterson, Tenita Johnson, King Wesley, Velda Hunter, Shay Love
Photo Credit: Wayne Norman Photography
In Greek mythology, the phoenix is a bird that perpetually regenerates itself or is reborn after going through a fire. Eventually, it rises from the ashes, ascending to a new life. Author, editor and speaker Tenita Johnson's ascension is happening, as she recently turned her inspirational book, When The Smoke Clears: A Phoenix Rises, into an interactive stage play. Held at the Boll Family YMCA in downtown Detroit last weekend, When The Smoke Clears successfully sold out all three of its riveting shows.
Centered around Déja and Damon, a happily married couple whose pasts come back to haunt them, the plot unfolded and twisted with a powerful impact. The believable acting pulled the audience onto a roller coaster of emotions ranging from compassion and shock, to fear and anxiety. Themes involving love, secrets within family and marriage, and blended family woes were explored. Attendees posted rave reviews on social media, with several of them demanding a part two.
The intimate setting highlighted an impressive cast who delivered mental and visual stimulation. Kristen Marie Petersen played the "sweet and naive" Deja who was blissfully in love with her husband Damon. Her horror was palpable when a figure from her past threatened her happiness and her life. Damon, played by Mike Jeffers, was loving and seemingly devoted to his wife, but unresolved issues from his past aroused suspicion. Jeffers, who appeared in OWN's "Raising Whitley,"  is also one-half of the R&B duo Raw Voyces. The single man who has been engaged, but never married, didn't find it hard to play his role. "I know enough married people, so I see how they act with their wives," he said. "I just jumped right in."
Peterson's pleasant rendition of the song "God Provides,"  along with a soulful performance by Atlanta singer-songwriter Toran, added welcome music breaks.
Crowd favorite Velda Hunter, played Déja's feisty best friend, Leslie. Her antics kept the audience cracking up, but a brief moment of seriousness showed the depth of Hunter's talent. "Leslie is the cool friend. She don't take no stuff. She's a little unconventional, but she makes sense," said Hunter. "She will be your ride or die best friend. She is almost a low-key Dina from Girls Trip. She's like a Dina and a Madea mixed." Hunter has honed her skills by studying heavyweights like Kathy Bates and Viola Davis. This fall, she will appear on the Detroit TV 20 sitcom, "My Step Kidz."
Rounding out the cast were 17-year-old John Williams, who played Damon's son, DJ; singer-songwriter Shay Love, as his mother Shelly; and King Wesley who correctly predicted that his character, Bryan would "pull the audience to their feet." Williams admitted that he enjoyed being in character while at home with his family because the defiant DJ is significantly different from him in real life. Love's convincing portrayal of the troublesome "baby muva," made her one of the least favorite characters.
A rookie in the stage play game, Johnson calls director Melissa Talbot and producer Richard Bass her "dream team" for bringing her vision to fruition. "I've been to many productions in Detroit that are directed and produced by Richard and Melissa," she explained. "I know the difference in their productions versus other playwrights' who do it on their own. I didn't want to bomb trying to have my hands in every little thing. I had to have somebody who's experienced in the industry. They have a track record of producing quality shows." During this experience, the Chicago native learned how to curb her urge to micromanage. She had to exercise her trust in God and her team. "[Those] are some of the biggest lessons for me," she said. "Being able to just pull away and literally give your gift or your vision to somebody else, and let them run with it. And trust them to run with it, even if you're not there."
As members of Urban Playwrights United, Talbot's and Bass' extensive collection of local and national projects include collaboration with industry greats such as Angela Dunlap and Vanessa Lynn. Not driven solely by tickets sales and filling seats, Bass' passion for stage productions started during his college days. He assisted Johnson with writing the script.
Along with directing, Talbot also produces, and she is a distinctive graphic designer. Serious about what bears her name, she doesn't just "take projects for money. I have to see a marketing point for it. I have to see a target audience," she said. With almost 20 years in the industry, she advises aspiring directors and producers to "never stop learning your craft and stay abreast of what's going on day to day. Know when to shift."
Johnson's many tests are now a part of her testimony. She suffered the loss of a set of twins the day after her wedding. This tragic loss was followed by struggles with depression, unemployment and suicidal thoughts. When the Smoke Clears is proof of her extinguished doubts and fears. Known as the "editor extraordinaire," she has helped hundreds of writers become best-selling authors. Her own books have empowered others to persevere despite tragedy. Passionate about encouraging writers to author books that will generate multiple streams of income, she is currently working on a fiction novel that will deal with the consequences of molestation.
Photo gallery credit: Tenita Johnson