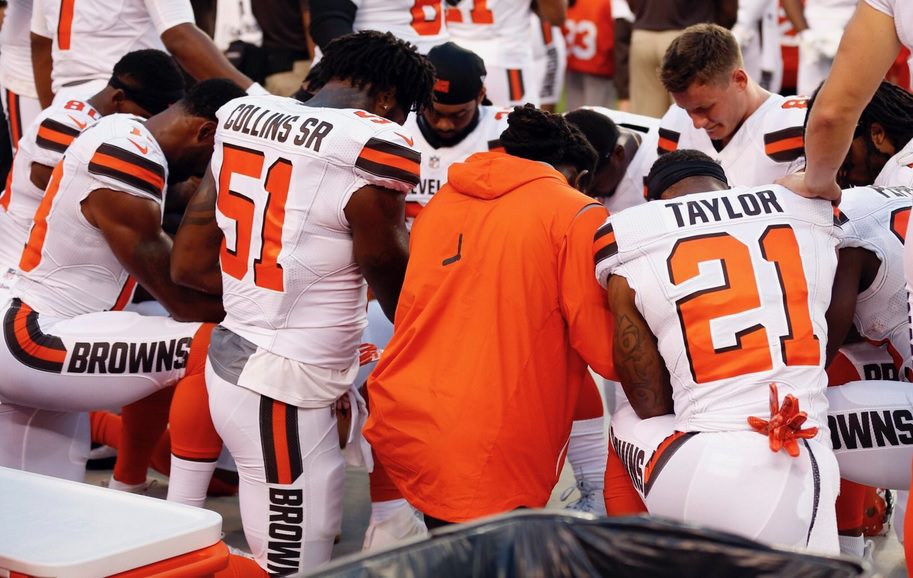 Halfway through this year's NFL preseason, the support for Colin Kaepernick continues.
Before a 10-6 victory against the New York Giants, many players from the Cleveland Browns kneeled during the national anthem. Jabrill Peppers, Isaiah Crowell, Duke Johnson, Christian Kirksey, Seth DeValve, Jamie Collins, Kenny Britt, Ricardo Louis and Jamar Taylor kneeled together in a circle behind the Browns sideline during the anthem. DeShone Kizer, Shon Coleman, Britton Colquitt and Jason McCourty stood with their hands on the kneeling players' shoulders.
DeValve became the first White player in the NFL to kneel during the anthem. He leads the team in Bible study and is married to a Black woman, whom he met at a campus ministry while attending Princeton University.
"We took the opportunity to pray for our country and for the men and women in this country during the anthem," DeValve said after the game.
Britt has been outspoken about social issues often in his career. When he played for the St. Louis Rams, he was one of the players that walked onto the field with his hands up in memory of Mike Brown. Last season, he held his fist up during the anthem.
Kirksey led the prayer. His late father was a pastor.
"With everything you do, you have to have respect, first and foremost," Kirksey said after the game. "We did it in a way that we said a prayer. You know, anyone that was wondering what we were doing in a circle, we were saying a prayer. We were just praying over the country and just praying over things that are going on. We tried to do it as respectfully as possible. We respect everything that happened with people in the military. We respect all of that. We just felt like it was the right time to do that. Say a prayer and pray over this country."
According to the Washington Post, police nationwide have shot and killed 492 Americans in 2017 as of July 1. Kaepernick still hasn't been signed to an NFL team.