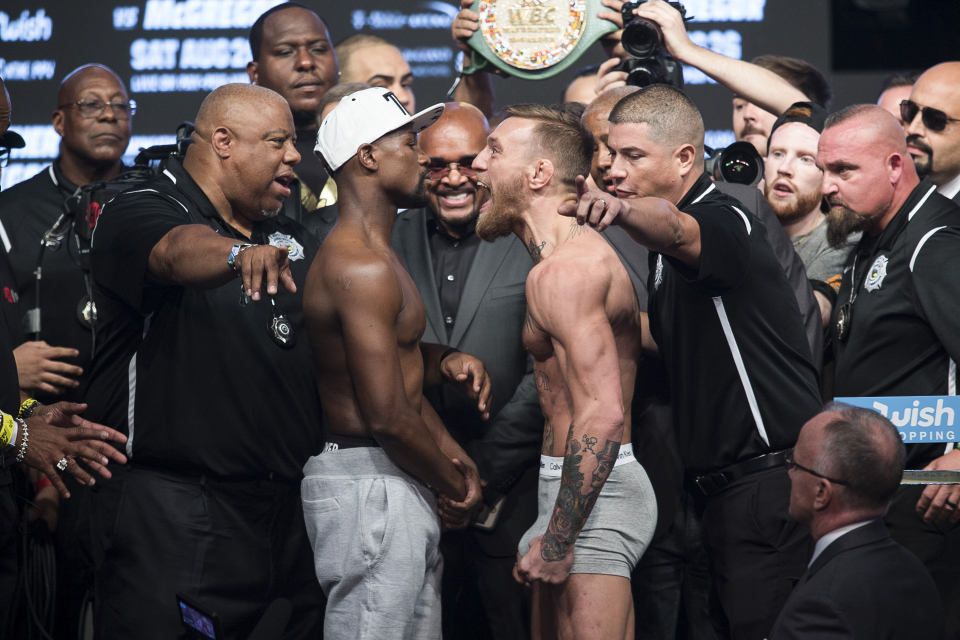 Tonight's the night. All eyes will be on T-Mobile Arena in Las Vegas as viewers eagerly watch UFC lightweight champion Conor McGregor and 12-time world champion Floyd Mayweather go blow for blow in one of the most anticipated fights in history. The only question is, how will you view the spectacle? Here's everything you need to know about when, where, and how to enjoy the long-awaited fight.
When does it all go down?
The brawl takes place tonight, Saturday, Aug. 26. Much like many big scraps in Sin City, expect the ring walks to begin around 9 p.m. EST. So grab your snacks and Red Bull. Considering the egos on these two, we anticipate a long night.
How to live stream the fight …
Showtime Pay-Per-View will distribute the live fight with pricing ranging from $90 to $100. Millions are expected to tune in for the battle between Mayweather and Irish MMA superstar McGregor.
What's all the fuss about?
If you're playing catch-up, the Mayweather vs. McGregor fight has been described as potentially "the most pirated event in history," Independent reports. In fact, "The fan and media interest exceed what we have seen for the Mayweather-Pacquiao fight in 2015," an event spokesperson told Fox News.
Still, the event has some impressive numbers to surpass. Just two years ago Mayweather's welterweight world championship unification fight with Manny Pacquiao — distributed by HBO and Showtime — set a new record of 4.6 million pay-per-view buys. Saturday's clash is tipped to top that.
"There's never been an event like it before and there may never be one like it again," former HBO PPV head Mark Taffet told Variety. "When you look at these type of events, they're more than just sporting events. They're true entertainment spectacles. This has all the characteristics of a great spectacle where people can get together in large numbers and watch together like a Super Bowl party."
Who is your money on? Let us know in the comment section below.