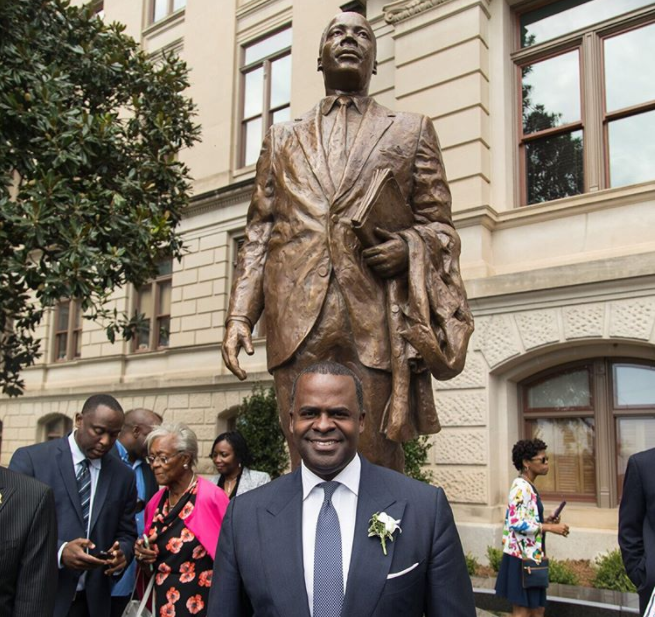 ATLANTA — In a Deep South state that is literally littered with monuments dedicated to Confederate heroes all over the state like locusts, and even includes statues erected in honor of actual White supremacists, including formerly on the statehouse grounds, the state of Georgia has finally immortalized a man who stood for peace and equality with his own monument.
Georgia political and civic leaders unveiled the first statue of Dr. Martin Luther King Jr. on Monday at the statehouse grounds, more than three years after Gov. Nathan Deal first announced the project.
Deal was flanked by Atlanta Mayor Kasim Reed, U.S. Sen. Johnny Isakson, members of the King family and other dignitaries on Monday on the grounds of the Georgia statehouse to lift the curtain on the long-awaited statue.
"Our actions here today represent the evolved mindset of our state as we continue to reconcile our history and our hearts," said Deal.
Rev. Bernice King, the youngest daughter of the Civil Rights icon, borrowed a phrase from her venerated father when she mentioned that the "sons of slaves and former slave owners" collaborated to build this monument. She said it provides a "symbol of hope to a nation in turmoil again."
Reed reflected on the decades-long fight to bring King's statue to the statehouse grounds and used a part of one of King's most famous letters, "Letter from a Birmingham Jail," to explain that being told to wait often means never.
"Never has become now," Reed said.
The manifestation of the statue was a longtime coming. At a January 2014 King Day ceremony at Ebenezer Baptist Church, Deal pledged to honor King's legacy with a statue on the statehouse grounds. The Republican helped create a fruitful ambiance where this day could come to fruition, replete with Deal's decision to remove a statue of a White supremacist politician from the Capitol grounds.
"Never has become now." Watch Georgia unveil a Martin Luther King Jr. statue on the Capitol grounds #gapol pic.twitter.com/WTn2xUe7BJ

— Greg Bluestein (@bluestein) August 28, 2017
The plans to build the sculpture was delayed when the original sculptor, Andy Davis, died after his motorcycle was hit by a pickup truck, the Atlanta Joural-Constitution reported.
The successive sculptor, Atlanta artist Martin Dawe, was appointed in June 2016, and state officials lined up corporate sponsors to pick up part of the tab. He had been under intense professional pressure to get King's likeness just right.
The MLK monument celebration, coincidentally, coincides with the debate to keep symbols from the Confederacy/Jim Crow era in Georgia and around the nation, particularly in Charlottesville, Virginia.
According to reports, lawmakers are expected to debate next year how to handle the more than 100 Confederate Civil War monuments erected around the state. Most interestingly, the descendants of Alexander H. Stephens, the vice president of the Confederacy, want to remove his statue from the U.S. Capitol's Statuary Hall.