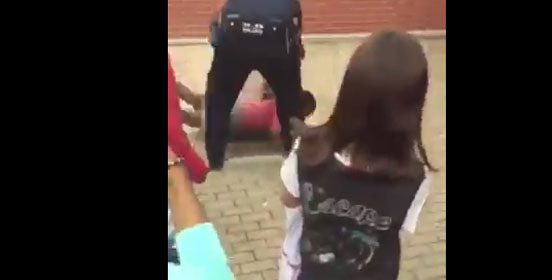 Recently, a video surfaced of two students, one White and one Black, fighting at Rawlinson Middle School in San Antonio, Texas.
A school safety officer is seen in the video breaking up the fight and choosing to single out the Black child, slamming him face first into the ground. The White child is allowed to walk away as the Black student is marched off. This is the second time a school cop has been caught on film body slamming a student of color. In 2016, a cop at Rhodes Middle School in San Antonio slammed Janissa Valdez, 12, to the ground when he thought a fight was going to break out.
According to NEWS4 San Antonio, the Northside Independent School District issued the following statement:
The incident you reference occurred at Rawlinson middle school on Monday of this week. It involved a Northside ISD Police officer, not a SAPD officer, intervening in a physical conflict between two students. That officer, who has been with Northside ISD since 2006, has been placed on administrative leave pending a full investigation. The officer has had no disciplinary issues during his tenure at Northside. The Northside ISD police department and our District's Human Resources department are both conducting a full investigation. CPS has also been notified.
The video of the encounter can be seen below:
https://www.youtube.com/watch?v=eF76AteakDA