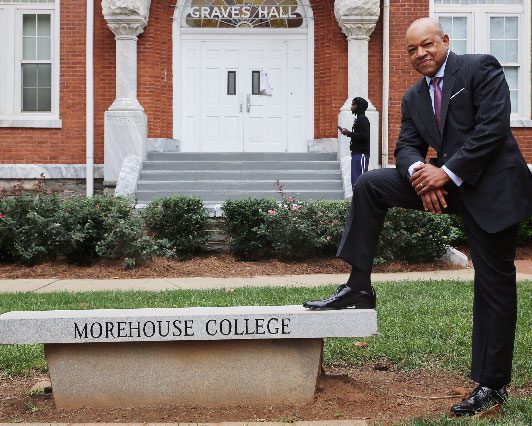 A significant change has come to the campus of Morehouse College as Dr. David A. Thomas was appointed its new president. Thomas will become the 12th president of one of the best known HBCUs for men in the world. His appointment is significant in that he will be the first non-Morehouse man serving as president in the last 50 years, since Dr. Benjamin Elijah Mays.
There can be no question that Dr. Thomas is uniquely qualified to lead Morehouse. His educational background includes a Ph.D. in organizational behavior studies and a master's in organizational behavior degree, both from Yale University. Dr. Thomas also has a master's in organizational psychology degree from Columbia University and a bachelor's in administrative sciences degree from Yale College. His work history also encompasses 30 years in higher education administration.
But as a person who never attended an HBCU, much less Morehouse College, many alumni are wondering how Thomas can understand what is to be a Morehouse Man.
"Morehouse was actually where I wanted to go to college from the time I was 10. I got into Morehouse, but I didn't receive any financial aid. My second-choice school did offer a scholarship, so I enrolled there, but always with a yearning to be at Morehouse. As the son of working-class parents who did not attend college, I understand the transformative power of higher education for people of color. I also understand what it means to be a black male in America, and the determination and strength of character that it takes to be successful. I will work tirelessly to help raise the scholarship funds necessary so that no deserving student who wants a Morehouse education is left behind," he said.
The road will be hard but not insurmountable for Dr. Thomas and his administration at Morehouse. In 2016, Moody's downgraded Morehouse College's credit rating to Ba1 and a negative outlook. Among the issues noted were frequent administrative turnover. Thomas stated today that a capital campaign of at least $500 million to $1B is needed for Morehouse College's future. But it will also be up to Thomas to help mold the character and branding of what it is to be a Morehouse Man.
When asked by this writer what it means to be a Morehouse Man, he stated, "It means that he should live his life in a way that reflects a commitment to leadership. To be a leader in his profession, community and that means having a positive impact among others. To be of service, which means no matter how successful one is, you are connected to the bigger picture. It means representing oneself in a way that is defined by integrity, confidence, and humility. Even when I was a little kid, I saw Morehouse men represent themselves in this manner."
Thomas is coming on board truly as a "stranger in a strange land" but he is ready for the task at hand. But it will be up to the alumni to band together and help nurture this brother from another mother school into the traditions and culture of Morehouse. Hopefully, Dr. Thomas will receive help from D. Robert Franklin, who as president emeritus is more than able to fill in the cultural pieces of being a Morehouse Man. Dr. Thomas will begin his tenure in January 2018.