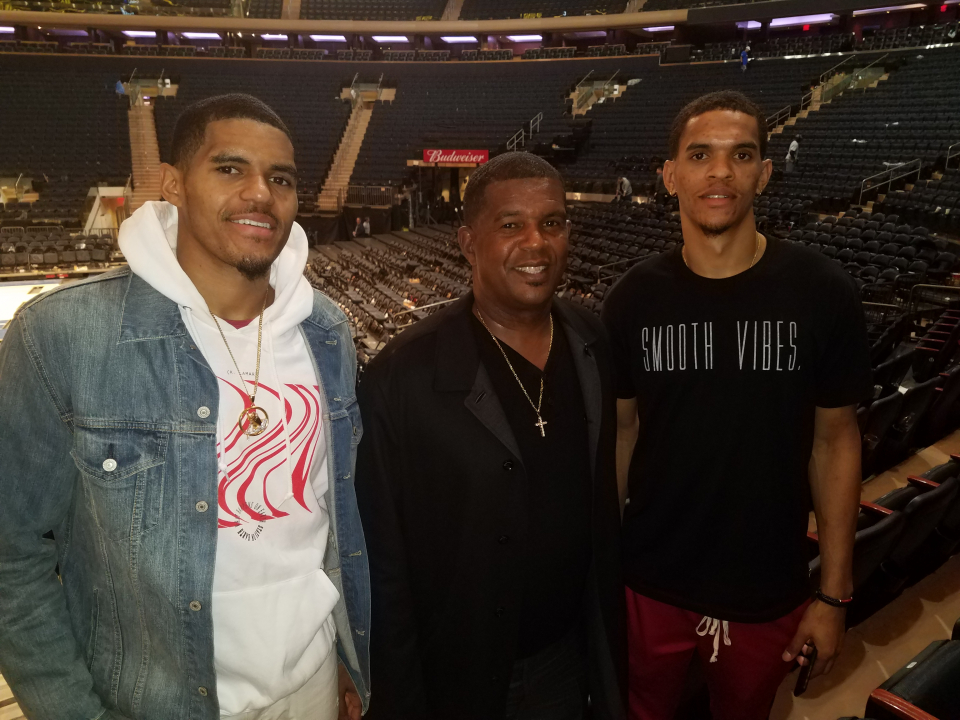 Though LaVar Ball gets more press about his sons, NBA father Torrel Harris is closer to having two sons in the NBA.
Torrel, the father of budding NBA All-Star Tobias Harris, had a second son, Tyler Harris, drafted by the Los Angeles Clippers franchise, the Agua Caliente Clippers, with the 25th pick in the first round of the G League Draft (formerly the NBA Developmental League), on Saturday. This brings his dream of having two sons in the NBA on step closer.
Torrel and Tyler were at Madison Square Garden Saturday to see Tobias and the Detroit Pistons take on the New York Knicks.
"It was great, but Tyler's a pro, he's an NBA pro," Torrel said of Tyler's new position during our interview. "It's just one step so he can prove himself in the G League and God willing hopefully be in the pros. I've seen him work out all summer, hard as he works out with Tobias, and all the different kids, [San Antonio Spurs player] Danny Green and everybody, and he dominates. He just got to go to the G League, show everybody how good he is, and then the next step is the NBA. I'm 100% confident that he'll be in the NBA."
"Playing in the NBA is a great dream of ours since we were little kids," Tyler said. "I'm just looking to make my mark now in the NBA and continue to put the work I've been putting in all summer and all my life on the court and have my time to step up and be where (Tobias) is."
And where was Tobias Saturday night? We spoke to him before he went on to score 31 points while leading the Pistons to victory over the Knicks, erasing a 21-point deficit in the process. But Tobias seemed more thrilled after the game with the family victory and took to Instagram to share his joy.
Tobias posted, "Great win last night. My bro @teamsmooth_ was in the building before he heads out to take over the G-League with the Agua Caliente Clippers!! One step closer to your dream bro. Keep the faith and stay on the grind! Blessings this upcoming season 🙏🏾🙏🏾 #SmoothVibes."
Torrel Harris has raised a strong, Christian family and the hard work that he and his wife put is are paying dividends on the NBA court and off.