Janet Jackson fans blast Justin Timberlake after Super Bowl invitation
Janet Jackson's fans memories are apparently long — and the disdain for a certain pop star has failed to subside after more than a decade. When former NSYNC front man Justin Timberlake got an invitation to perform at the Super Bowl 52 this coming February, Twitter erupted with volcanic ferocity at who was left out: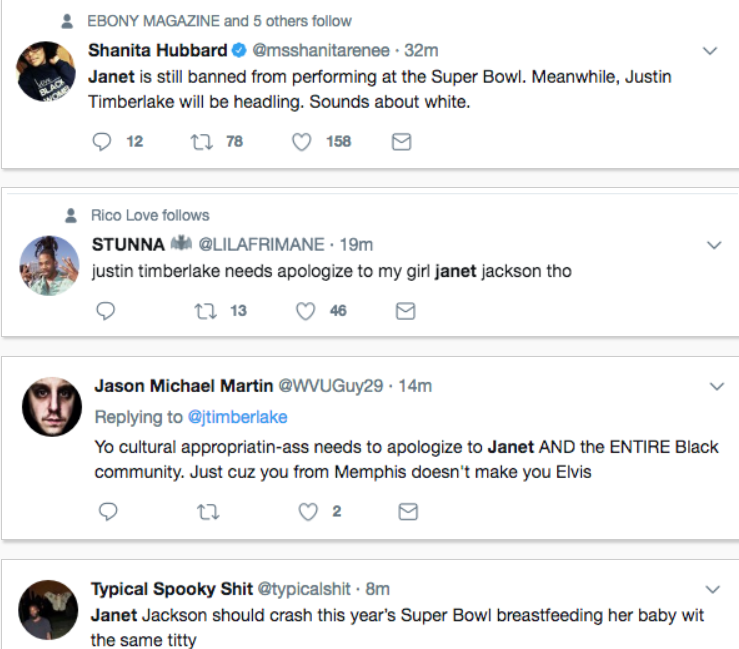 The singer confirmed his 2018 Super Bowl performance early Sunday evening with a tweet that read, "I DO have the time. Half the time…#PepsiHalftime #SBLII @Pepsi @NFL @JimmyFallon @FallonTonight"
The NFL also posted about Timberlake's upcoming appearance: "Global superstar Justin Timberlake will headline the Pepsi Super Bowl LII Halftime Show on NBC at U.S. Bank Stadium in Minnesota on Sunday, Feb. 4, 2018, it was confirmed tonight."
And the evidence of fan disapproval kept flooding Twitter: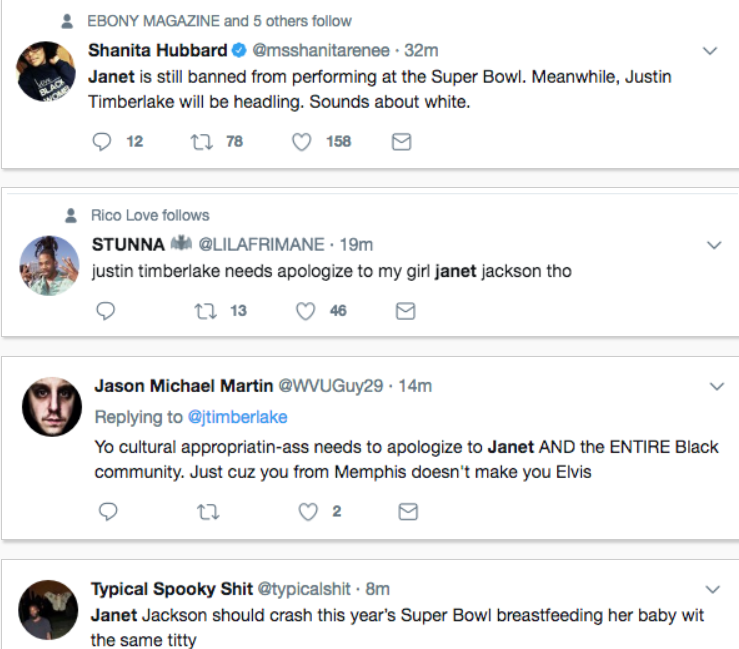 Right? The #NFL has enough controversy without pulling this crap on #Janet Jackson https://t.co/LYXYNNPyxN

— Susan Medici (@MediciSusan) October 23, 2017
Timberlake will earn the enviable distinction of being the only artist to appear at three Super Bowls, having previously performed at Super Bowls XXXV and XXXVIII.
But this will also mark the first time he has performed at the halftime show since 2004. That year, the crossover artist's perofrmance with Janet Jackson on the song "Rock Your Body" was a cultural and political watershed moment after he pulled off her nipple guard and briefly exposed her right breast.
Despite the duo's performance being carefully rehearsed and choreographed, the incident was later characterized as a "wardrobe malfunction."
Neither Timberlake's tweet nor the NFL press release refer to iconic and beloved Jackson, who was subsequently barred from appearing on the 2004 Grammy Awards.
Timberlake did appear at the Grammys that year, appearing in a conservative business suit, and that led to public charges of sexism and racism. Jackson's career never again rose to the same commercial and Hall of Fame-caliber heights she had achieved before the Super Bowl controversy.
There are unconfirmed reports that Jay-Z was asked to headline the halftime show before Timberlake, but that he declined to appear as he sympathizes with Colin Kaepernick and the player protests of the national anthem.