Four guys from the south side of Atlanta were introduced to R&B fans via Harlem and Brooklyn's finest and it seemed a perfect fit. R&B group 112 was a part of one of the biggest movements in pop culture. A young, up-and-coming mogul took over the '90s with his Bad Boy label that would define the lifestyle of the decade. Diddy's Bad Boy was a trendsetter in every sense of the word. The label set the tone for music, fashion, and beauty. Everyone wanted to live the Bad Boy lifestyle. If Biggie and Puff were the cool older brothers, 112 were the little cousins with the melodic voices that fit right beside other label mates Mase, Faith, Total and the rest of the family, not to mention the extended family that jumped on Bad Boy collaborations like Missy Elliott and many more. Everyone watched Quinnes Parker, Michael Keith, Marvin "Slim" Scandrick and Daron Jones consistently laced in the latest fashions, dancing and singing alongside Diddy. They were the romantic side of Bad Boy. They talked specifically to the ladies, mixing R&B lyrics and melodies with hip-hop beats. "Room 112, where the players dwell/and stash more cash than Versatel, Inhale/Make you feel good like Tony Toni Tone" was more than just a line from Biggie on a track; it was a definition. The group made love and romance seem cool. They were Bad Boy's heart but we didn't know them individually. Today, almost 20 years later, we get the chance to meet Q, Slim, Mike and Daron as individuals with the group's first album together in over a decade.
All of us are at our best vocally with this album I believe. We worked really hard to push ourselves
"We were four guys from the country that grew up singing in church. All we knew was Take 6 and Commission," Q said, laughing during a recent private listening session at rolling out's headquarters in their hometown of Atlanta. He was talking about the beginning of 112, but it was clear throughout the interview that they haven't been those four naive country boys in quite some time.
Management acknowledges Mike is the funniest and flashiest of the four, although he was also voted the glue that holds the group together. Daron, who was the first to arrive at the session, is quiet with a distinguished air about him. It's easy to realize why he could be the most musically inclined. He plays every instrument imaginable, and actually was the group's secret weapon years ago when they started on the talent show circuit. "We were planning to just go on stage and let Daron play the piano for every song," Q explained when asked about the group's inception.
Slim is next and although his voice is the one fans connect with the signature 112 sound, he is the shyest of the four. Outside of the group, Slim's solo career had the most success, boasting his hit single, "So Fly" featuring Atlanta rap royalty Shawty Lo and Yung Joc. "I appreciated the support with my solo career, but it was a wake-up call how hard it was being onstage without these guys on either side of me. It was a total[ly] different ball game," he admitted.
Last but not least, Q is the diplomat of the group. He's seen as the responsible one women labeled a sex symbol. Whether he is aware of the title or not is hard to tell, as Q is the quintessential family man, who talks openly about his dedication to being a husband and father.
[cigallery]
Watching their interaction during the private listening session, it's apparent their connection goes much deeper than music. They relate and interact like brothers connected by time and memories that span a lifetime. For this album, each acknowledges the appreciation of doing a project together after working on their own for years. Mike said, "Being a solo artist isn't easy, especially when you are coming from such a large platform. It was a learning experience for all four of us though. Sometimes being away from each other makes you appreciate each other more."
With the new album, Q Slim Mike Daron, they offer an introspective glimpse into the personalities that make up 112, instead of forcing audiences to swallow four people as one entity. The marketing concept is akin to rewinding audience's understanding of who the group is. It's almost backward, but because the group was a part of a larger-than-life movement in music, it makes perfect sense. At the group's introduction in 1991, it's highly likely that Q, Slim, Mike and Daron weren't even sure of who they were as boys because they certainly weren't men at the time. Besides them being young and inexperienced, they were the Bad Boy reps, which meant their individual personalities would've more than likely been absorbed into the phenomenon that was Bad Boy. Today, each member has had their own life experiences, both as members of 112 and also on their own, transitioning to manhood, so they are a much more substantial collective.
One thing that was apparent about 112 from the beginning was their smooth vocals. They're known for their memorable melodies and harmonious backgrounds. What most didn't realize was that all four members could've become solo artists based on their vocal ability.  When they became popular, the competition for boy bands was so steep, they would never have ended up at the top of the charts if they weren't able to sang — as opposed to sing. Groups like Silk (who the guys competed against in Atlanta talent shows), Jodeci and Intro were known for serenading woman fans with vocals that were reminiscent of the church choir. The recent appreciation of '90s music, especially R&B proved the timing was right for a new album.
Finding the sound for the new project wasn't difficult for Q, Slim, Mike and Daron. By design, the group is a mesh of hip-hop and R&B, which set the foundation for urban music today. Instead of changing their format to fit the times, 112 just went back to their vocal roots and tweaked them before putting out this project.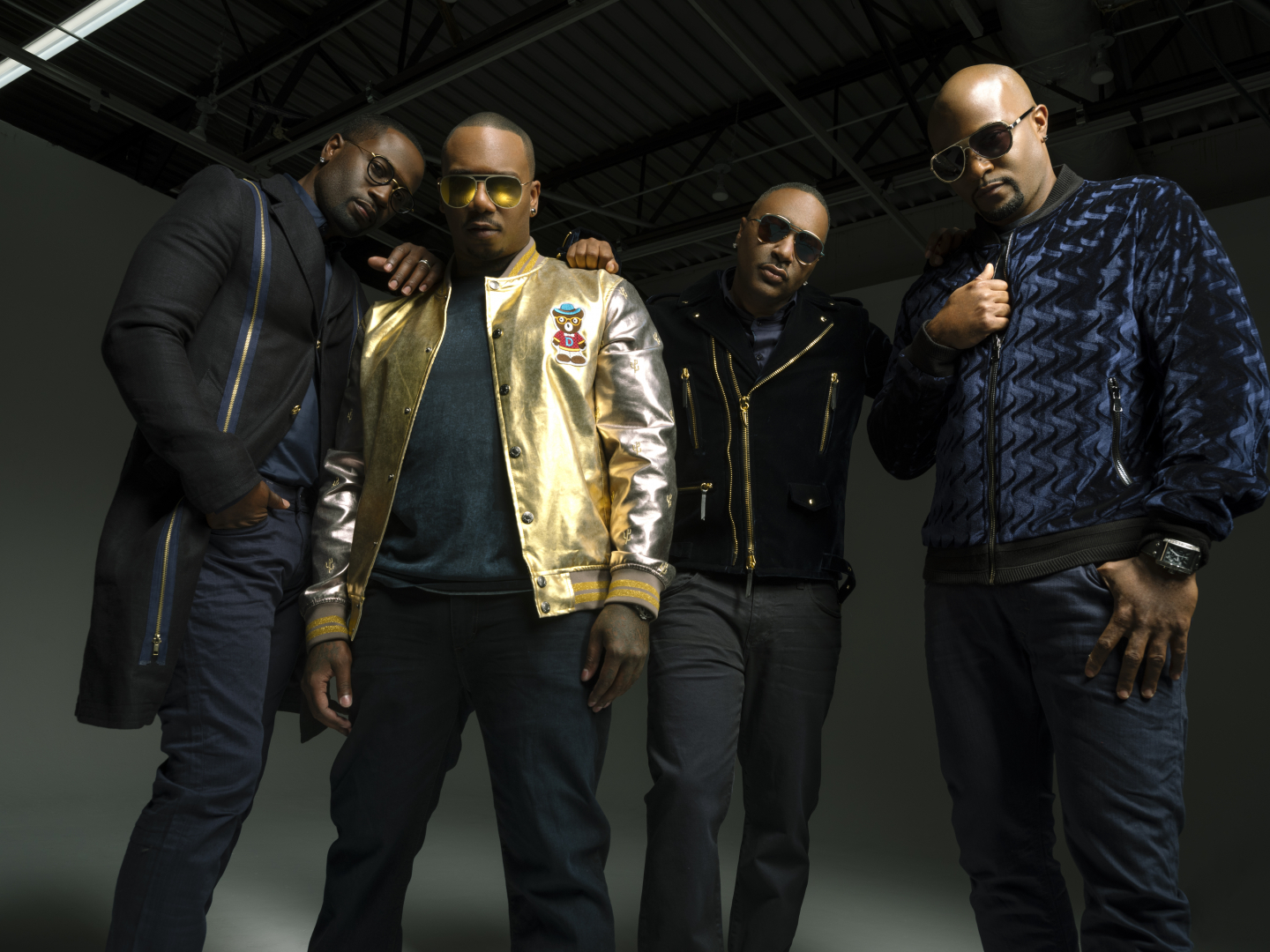 In the midst of starting promotions for the new album in Atlanta, 112 went back to their high school and donated two scholarships to deserving students. "This is where we started and it represents who we are. My grandmother still lives a mile up the road. Q's family still lives right [in] this neighborhood. My family would always say no matter how far you go, you always remember you are from here," Mike said. South Atlanta appreciated their contribution and awarded them with a commemorative plaque celebrating the group's 20-plus years of success in the entertainment industry.
"All of us are at our best vocally with this album I believe. We worked really hard to push ourselves," Q said of the new project. The result is a nostalgic-yet-evolved 112 that's bold enough to give their audience the best of what they loved about the group years ago. The new album is relevant to today's musical landscape but manages to allow fans who have supported 112 through five albums, numerous solo projects from all four members, and even overseas tours to feel as if that 112 magic is right where they left off years ago with the group's critically acclaimed project Pleasure and Pain.
In addition to delivering their own version of 112 serendipity, the new album features a song with their biggest competition in the '90s, So So Def powerhouse Jagged Edge. While Puffy and Bad Boy represented New York to the fullest, Jermaine Dupri's So So Def repped Atlanta and Jagged Edge was to So So Def what 112 was to Bad Boy. The only difference was 112 was originally from Atlanta and while they loved their NY family, they felt this album was an opportunity to represent for their hometown. "This is really big for Atlanta," Slim says. "You have the two biggest male R&B groups both from Atlanta and people thought we were enemies but for us, it's not like [that]. Healthy competition is one thing, but at the end of the day we have nothing but love for Jagged Edge and we knew fans would appreciate this, especially fans here in Atlanta."
Q, Mike, Slim and Daron agree they've been blessed to have a career that spans generations and to come back and have fans who are eagerly awaiting new music is beyond a blessing. They are excited about reconnecting with audiences with their new album and allowing fans, new and old, to get a closer and more personal glimpse into the four men that make up the legendary R&B group 112. They've gone from boys to young men to adults, as a group, and experienced highs and lows, but their musical DNA will always trace back to Room 112. "We saw the New Edition movie and it was cool because those are our memories also. We opened for New Edition. I had a lot of people ask if they'd see a movie about us or if there would be documentaries about our success and the answer is yes it's coming, but right now 112 still has business to attend to," Slim said candidly.