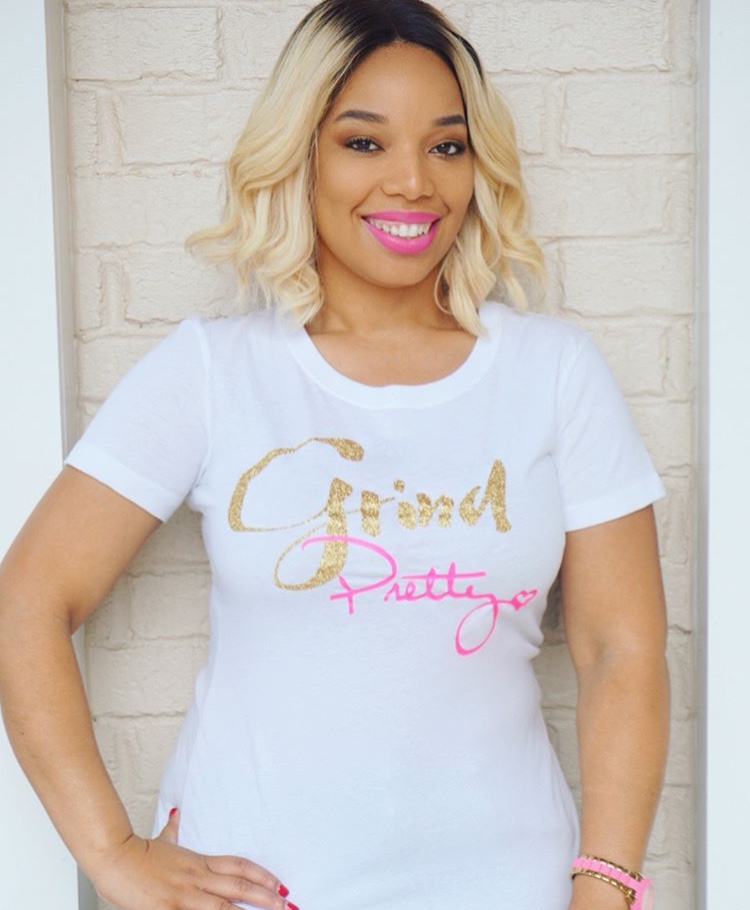 If the words "female hustler"' was in the dictionary, celebrity makeup artist and businesswoman Mimi J would be the prime example. The 35-year-old is starring in Aspire TV's new hit web series, "The Graduates ATL," running her own boutique, The Glamatory, in Atlanta, and dealing with the demanding schedule that comes with being a highly sought-after celebrity makeup artist. On top o that, she is a single mother of an adorable son who keeps her pretty busy as well.
Rolling out got the chance to catch up with Mimi J to talk to her about all that she has going on, how she balances being a businesswoman and a mother, and what other projects she has in the works.
We know that you're already a celebrity makeup artist to the stars, but tell us how you landed the role in Aspire's new web series, "The Graduates ATL"?
The creator of the show found me via Instagram and asked me to audition. The vision behind The Graduates ATL, is to first, bring awareness to HBCUs [historically Black college or university] again. We use to have "A Different World" and "The Cosby Show" and people were wearing HBCU gear on [TV] shows like, "Living Single" and "Martin" in the '90s and it sort of lost its way now. Second, The Graduates ATL, shows a group of diverse, successful HBCU graduates while bringing an inspirational and positive image back into television within the reality world.
As with all reality series, drama is sure to follow. Is there a lot of drama with this one or is it as inspirational as it sounds?
I wouldn't necessarily say that it's drama, I would say that it's more of different points of views. We are not fighting with each other, it's more so of having the respect for each other and to agree to disagree sometimes.
Let's get back to your real, day-to-day life. You're an entrepreneur, and you own, The Glamatory boutique makeup salon and retail store. What made you get into the makeup industry? Who or what inspired you?
I have always been artistic, I love anything related to the arts whether its music, dance, visual arts, or whatever the case maybe. I fell into makeup, I was the friend that naturally had that artistic ability to do makeup for my friends. One day doing my friend's makeup in New York, she suggested that I should start doing makeup and become a makeup artist. I never thought about it, I had a great job in corporate. I have always had an entrepreneurial spirit I just never knew what I wanted to do. At that point I decided to try it, my degree was in marketing from Clark Atlanta University so I understood the branding piece of it and later my passion turned into a profit.
You've done makeup for many celebs such as Issa Rae, Angela Simmons, Erica Dixon and many more. Whose make up have you done that made you realize that you've reached a new height in your career?
Being able to do makeup for the people that I listened to growing up really made a difference to me. Being in the presence of Missy Elliott and Da Brat, those are just a few, but those are the surreal moments that are like 'wow, this has taken me to another level'.
How do you balance being a mother and a businesswoman all while continuously growing your brand and expanding your clientele?
There is no way to sugar coat it, it's hard but at the same time looking at my son motivates me. My son is autistic and that adds a little more pressure on me to provide for him. To anyone that is a single mother, it's going to be hard but do not let that be a handicap for you, you still can do it. Build a strong support system and surround yourself with people who love you and want to see you succeed. That's the key, having the willpower and confidence in yourself to move each day but also surrounding yourself with people who genuinely love you.
Do you any other projects in the works?
Yes, I also have a movement called Grind Pretty, this one is actually to support the business and corporate women. As I started getting into my career I noticed a lot of women gravitating towards me outside of the beauty world. I took it upon myself to create a platform to inspire, motivate and educate in a place where women can connect as well. I have some exciting things coming up with Grind Pretty, I can't say them all now but some of them might be on the small screen soon.
Be sure to keep up with Mimi J on 'The Graduates ATL,' which airs this Saturday, Nov. 11 on Aspire TV.