Details of strategic shaming of Muslim activist Yassmin Abdel-Magied

Muslim activist Yassmin Abdel-Magied was fired by ABC in June 2017. It was following a controversial now deleted Anzac Day post, but the network says her dismissal is totally unrelated. Anzac Day, an acronym for Australian and New Zealand Army Corps, is held on April 25 and marks the anniversary of the first major military action fought by Australian and New Zealand forces during the First World War. She then wrote: "Lest we forget (Manus, Nauru, Syria, Palestine)." She deleted the tweet after accusations that she behaved un-Australian. The post was labeled "disrespectful" and "malicious."
In 2016, she was hired as a part time presenter on the ABC show "Australian Wide," a 24-hour news channel where she didn't report but introduced taped ABC's reporters' stories from around the country.
"ABC News is changing how we deliver long-form local journalism in order to better match our audience's needs," an ABC spokeswoman said.
"Instead of concentrating on one weekly broadcast slot, we will be using our best local and state-based longer-form pieces across the news channel, the extended weekend 7pm News and online. As a result, Australia Wide has not been renewed for another season. This decision has been under consideration for some time and was not to do with any controversy over presenter Yassmin Abdel-Magied. Yassmin was aware the program was under review and we are discussing with her future opportunities at the ABC."
On Nov. 11, Remembrance Day, comparable to Veterans Day in the US, Abdel-Magied tweeted #LestWeForget. And just a few lines down in brackets she put (Manus). Again, she is facing backlash.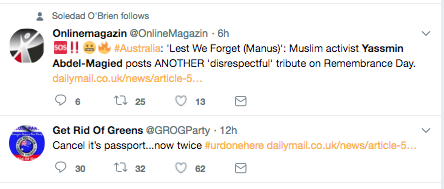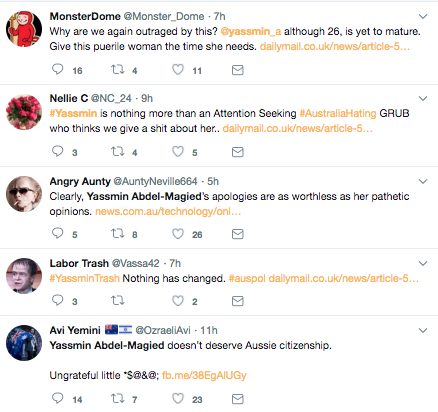 Manus is "a nation's shame" according to actor Russell Crowe. On Manus Island is a now closed detention center where asylum seekers have taken up residence because they fear for their lives. An Australian run facility, it officially closed on October 31and refugees were ordered to go to Lorengu, but they fear they will be attacked.
Crowe, who is a New Zealand citizen, has lived most of his life in Australia. In February, the Oscar winner offered to take and find work for six men held by Australia on Manus Island.
Iranian refugee and journalist Behrouz Boochani has been documenting the occupation of Manus and he says police are "telling the refugees to leave the prison camp," saying "tomorrow will be the last day you are here."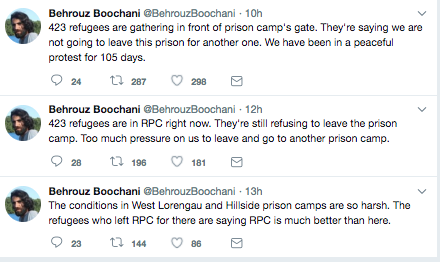 Yassmin Abdel-Magied is quite unbothered by the insults.