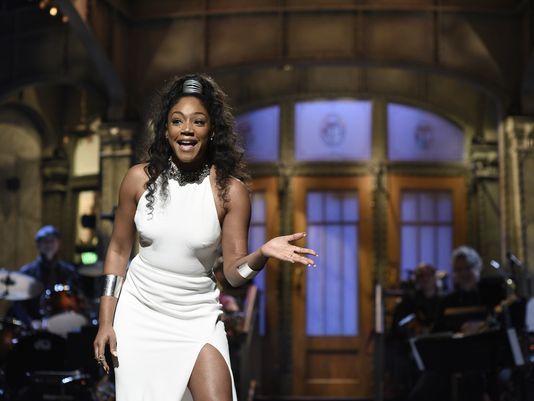 Tiffany Haddish made history by becoming the first Black female stand-up comedian to host "Saturday Night Live." Her accomplishment deserves notice, but "Saturday Night Live" should be appalled. It took 43 years and over 800 episodes for the comedy sketch show to hire a Black female stand-up comedian to host. It's not like Black female comedians weren't around for four decades, "SNL" just chose to ignore them.
Here are five qualified Black female stand-up comedians who could've hosted "SNL" before Tiffany Haddish.
Whoopi Goldberg
It would seem that Whoopi Goldberg would be a lay-up for the folks at "SNL." She starred alongside Robin Williams and Billy Crystal for the "Comic Relief USA" specials and appeared in numerous comedy films such as the Sister Act franchise. Goldberg appeared on several episodes of "SNL" as a guest and was lampooned, but she never got the opportunity to host. Ignoring Goldberg could be the show's biggest missed opportunity.
Wanda Sykes 
Wanda Sykes has over three decades of experience as a stand-up comedian. She has appeared on numerous hit shows and films and was once named as one of the 25 funniest people in America by Entertainment Weekly. Sykes has always deserved a shot to host "SNL."
Mo'Nique
Mo'Nique established a great stand-up career before getting her own TV show, "The Parkers" during the late '90s. She hosted "Showtime at the Apollo," appeared on "Def Comedy Jam," and once hosted a late-night show on BET, "The Mo'Nique Show." "SNL" should have hired her to host following her Oscar win for Precious.
LaWanda Page 
LaWanda Page is mostly known for her role as Aunt Esther in the hit '70s show, "Sanford and Son." But Page was also an accomplished stand-up comedian during the 1960s. She should have been given the opportunity to host "SNL" during the 1970s or early '80s.
Marla Gibbs
Marla Gibbs became an Emmy-nominated comedian during her stint as the fisty Florence Johnston on "The Jeffersons" during the 1970s. Following that show, she was given her own show, "227," in 1985. With "227" being a hit TV show for NBC, "SNL" should have made space to allow Gibbs to serve as host.