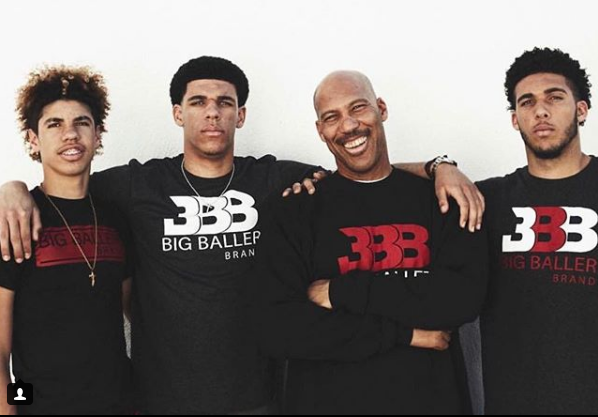 Lavar Ball's son LiAngelo and two other American college basketball players, who were facing up to a decade in a Chinese prison for shoplifting, are being allowed to return to the United States, the Wall Street Journal reported on Tuesday.
UCLA freshmen LiAngelo Ball, Cody Riley and Jalen Hill, were detained in China on suspicion of shoplifting, but the trio was spotted checking into a Los Angeles-bound Delta flight at Shanghai's Pudong International Airport, airline staff told the newspaper.
LiAngelo Ball is the brother of the high-profile Los Angeles Lakers' point guard Lonzo Ball, arguably the most hyped rookie sensation since LeBron James entered the league in 2003. The attention-seeking and boisterous Lavar Ball, the patriarch off the Ball family, has helped to exponentially raised the profile of his three basketball playing sons — but with that has come significantly higher levels of scrutiny as we witnessed with the shoplifting case in a foreign country.
The trio's return came hours after President Donald Trump spoke with Chinese President Xi Jinping about the three players. Trump said he was hopeful that they would be allowed to return home after he had a long conversation with the Chinese ruler.
"They're working on it right now," Trump told reporters in the Philippines as he prepared to return to Washington after a nearly two-week visit to Asia that included an earlier stop in Beijing.
"He's been terrific," Trump said, in an apparent reference to Jinping.
The players were accosted by Chinese authorities last week about allegedly stealing sunglasses from a Louis Vuitton store adjacent to the team's hotel in Hangzhou. The Bruins left for Shanghai to face Georgia Tech on Saturday. The accused players were released on bail on Wednesday, Nov. 8, 2017, and have been staying at an undisclosed lakeside hotel in Hangzhou since then.
An anonymous U.S. official told The Washington Post that charges against the three players have been reduced.
Another source shared with ESPN's Arash Markazi that surveillance cameras captured the players shoplifting from three stores inside a high-end shopping center, which houses Louis Vuitton, Gucci, Yves Saint Laurent and Salvatore Ferragamo stores.
UCLA Bruins head coach Steve Alford declined to answer any questions about the three players after the team's win over the Georgia Tech Yellow Jackets.
There is no word yet on what disciplinary action the players will face from either the NCAA or the UCLA Bruins, or both.
One thing is for sure: the three players should consider themselves very lucky. By allegedly picking up a pair of sunglasses, they could have spent up to 10 years in a foreign prison — and in a communist country at that.