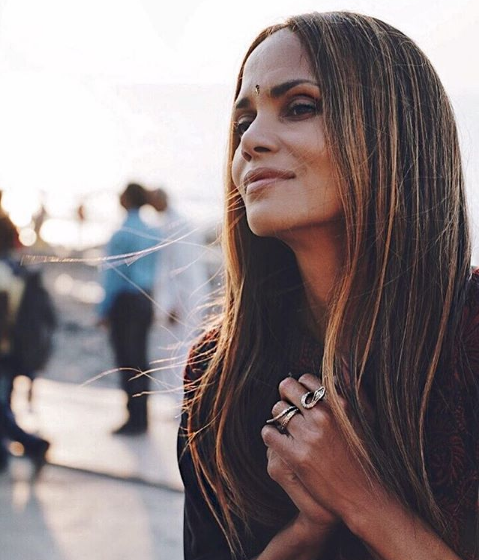 Halle Berry has taken yet another ex-husband to court. On this occasion, it is actor Gabiel Aubrey, whom she accuses of taking steps to alter their daughter Nahla's look to make her appear more European and less Black.
In her testimony, Berry, who is biracial, also revealed that Aubrey called her a "n*****!"
Berry provided the court with a personal note that Aubrey had written to her, in which he called her the N-word. The note was presented as evidence to support her claim that Aubrey harbors some disdain for African Americans. The letter was also presented as evidence for why he changed the texture and color of their daughter's hair to blonde.
TMZ reported that Berry became furious when she learned that Aubry was straightening Nahla's naturally-curly hair, lightening it with highlights, and she became convinced he does not want the girl to appear to be of African descent.
Berry did not make an appearance in court on Monday morning, but her lawyer Steve Kolodny spoke on her behalf. After a few rounds of arguments between her lawyer and Aubrey, the judge ruled neither Berry nor Aubrey could alter Nahla's look from its natural state.
The judge also had this to say about Aubrey, according to the documents obtained by the Daily Mail: "The racial epithet made by Petitioner [Gabriel Aubry] was and is completely and totally unacceptable. Nahla is a child of both of these parents, making this sort of comment about Respondent [Halle Berry] affect the very core and being of Nahla. And when Petitioner attacked Respondent for what she is and who she is, he was attacking Nahla because Nahla is part Respondent. And Nahla is part Petitioner. So when Petitioner did those things, that does serious damage to Nahla because he is attacking her core being, who she is."
Berry's testimony included, "I strongly feel that Gabriel's same underlying attitude is at the root in the changes which only he could have been causing to our daughter's hair."
Berry's team stated it had secured scientific evidence to prove she is not "delusional," as Gabriel had called her, "about the extensive damage and the changes to the texture and color of Nahla's hair that were observed by me. I was not willing to allow this to be a 'he said-she said' dispute."
The Academy Award-winning Berry (Monster's Ball) also noted: "I continue to worry about the potential psychological and physical damage to Nahla that can be caused by the use of chemical hair treatments and the psychological message that it conveys to Nahla, and to implore the court to put a stop to Gabriel's attempts to alter our daughter's appearance and most probably cause her to wonder why her natural appearance is not good enough."
According to one source close to Berry, "Halle kept asking and asking Gabriel about Nahla's hair and he kept denying it. … Halle then filed the court papers and Nahla's curls came back."
In the court docs, Berry stated: "I want both Gabriel and I to make decisions together that affect our daughter, her growth, her development and her general welfare."