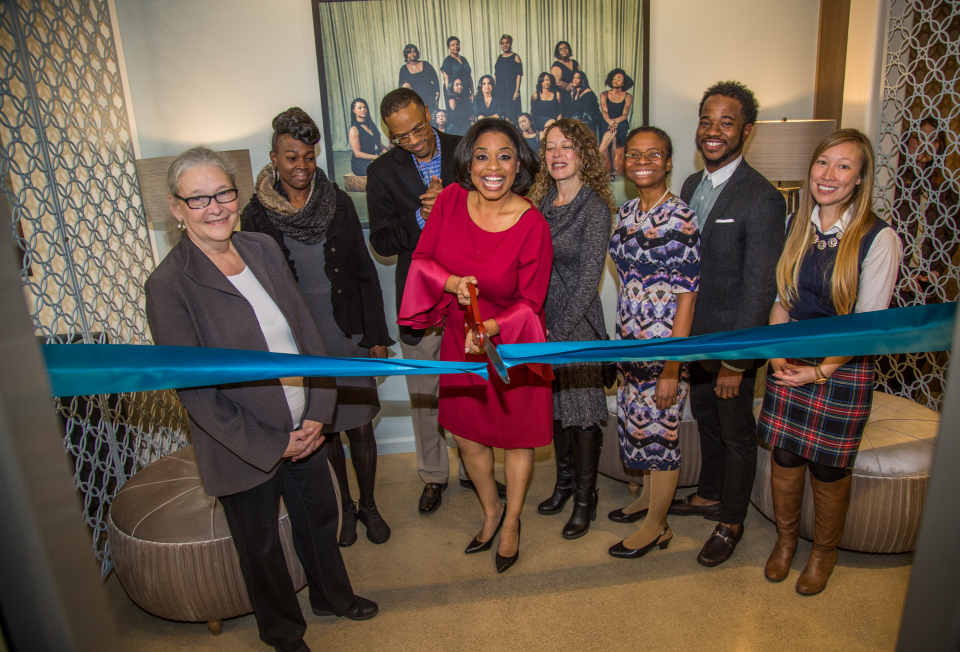 Dana White is a disruptor in the hair care industry. She's the owner of Paralee Boyd Salon and she has mastered and applied the principles of lean manufacturing to what she calls the Paralee Boyd process. White is in the process of launching her national brand and recently held her grand opening of the second Paralee Boyd salon in midtown Detroit.
The Paralee Boyd concept, as White calls it, are the lessons learned from her grandmother to find one's life's purpose; to not let anything stop you in achieving that purpose; to treat people as you want to be treated. These values, coupled with White's extensive background in lean manufacturing learned from the auto industry, has created a sure-win formula for White: the Paralee Boyd concept.
Read on to find out more about White's revolutionary process in the African American hair care industry.
Paralee Boyd is a new salon with a new spin on the process of getting your hair done. You have developed your own style of an assembly line for hair so to speak. How did you come up with the idea?
For me, it was about solving a problem. You may have experienced this as well. You've got this appointment that's two weeks out, and you need it moved up a week. You may or may not be able to get it depending on your stylist's availability. Let's say you do go to your appointment and you have a 9 a.m. appointment. You may not see anyone until say 10 a.m., and then you may not get into the chair until 11 a.m. or noon. And Lord knows you're not leaving until 2 or 3 o'clock. All to pay $70, $80, $90 dollars and sleep pretty for the next two or three days, or wrap it strategically to make it last. So, my lifestyle no longer fit that model. I needed to be able to walk in and get my hair done. When I lived in New York, I was able to do that. When I worked over in the Middle East, I was able to do that. It was only when I wanted to come home and get my hair done here and visit my family that I had to make my hair appointment before I got my flight — from the Middle East. So it was having a lot of control over when I came home, how I came home and the amount of time when I came home; I didn't want to spend eight hours in a hair salon. So, I took what I saw in New York, I took what I saw in the Middle East and I became deliberate about it. Motivated by what I saw my family go through and what I was able to connect with that was how I filled the niche. It was the best way to operate.
Why thick and curly hair?
Because there are other salons that are called blow-dry bars, they're not necessarily geared toward women with thick and curly hair. Most salons upcharge. Most salons lengthen your stay because you have thick and curly hair. And for me, once you put the process in order for them, the process can be applied to anybody. So, I chose thick and curly hair, one because I have thick and curly hair and it's a pain for me, and it was a pain that I saw that wasn't being solved. There are blow dry bars, but again, those really aren't geared toward women with thick and curly hair, even with their products.
You have a unique approach to the entire salon experience. Describe how you applied lean manufacturing in your new salon.
You can measure and collect data on everything. From the time they walk into the door until the time they check out. So, in between each stage, what is the most efficient use of that time and space? And the people who are professionals about doing that are the people who work on the line. People who know that the best way to put that car door on isn't by the robot going like "this," It's by the robot going like this, and how fast, and at what angle. So, I didn't want to control the angles of the hands of the girls who were doing hair, but I did want to say, "How much time can we save with calibrated pumps as opposed to regular pumps?" How much time can we save with the way that we shampoo? How much time can you save with the way you blow-dry? How much time do you save with the way that you style? You can lean out anything. You can lean out a restaurant. McDonald's is a leaned out restaurant. So, I wanted to create a process-based salon for women with thick or curly hair. So right now we say two hours. We have women that don't brush their hair, and we take that ponytail out, and it's a lot going on in there. We have to get through that, so that's going to take us longer than two hours to get through. We have young ladies that are coming out of braids, whose mom just cut out the braids and we have to comb through that hair. That takes us longer. But normally, our metrics has us around an hour and fifteen minutes. But we say two hours [because] you never know.
Why do you call yourself a disrupter?
Because it's a paradigm shift, even for the ladies coming in. We're not trying to supplant the stylists, we're trying to work with the stylists. Go to your stylist, get your cuts, your color, get those major overhauls. Like I did when I was in New York. But when it came to my maintenance, I went to a certain type of salon, paid my money, and was in and out. I consider our process revolutionary because one, I'm not seeing it done any place. When I was doing the market research for my business, there was a Wall Street Journal article, and that was about it. I couldn't, like a coffee shop, go and see the average sale of coffee in this region. There was nobody else doing what I do the way I do it. So to me, that was my first indication, "OK, this is a little revolutionary." Also, allowing women to have a level of freedom with their hair, that's not done. So for me, it's a disrupter because it's adding another layer of service, another brand option for women with thick and curly hair.
What other types of services do you provide?
We provide the Dominican blowout, and we do hair health and maintenance things. Like we trim your hair, we'll put a single application color rinse in your hair. We do do relaxers, but responsibly. We have a database — all your visits are tracked. So you probably won't come into Paralee Boyd and get another relaxer in four weeks. The assembly line is there, but that's the back end. We use an upgraded blow-dryer. We blow dry the Paralee way. We use flat irons; we don't use pressing combs at all. We do a lot of treatments. Protein, steam, deep, hair health thickening; yeah, that's us.
Photo gallery courtesy Dontae Rockymore except where otherwise noted