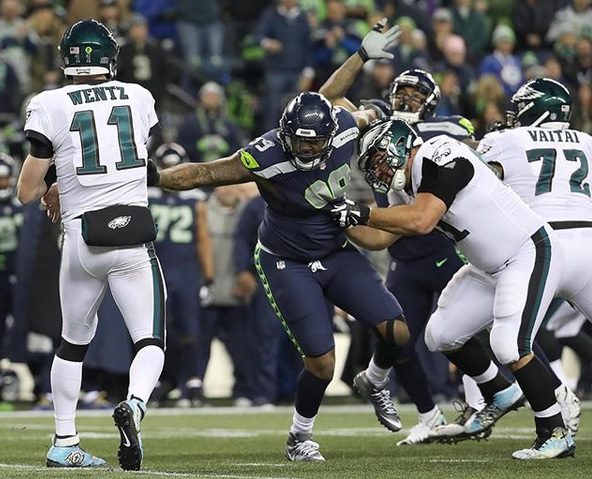 About one too many beers.
That's apparently what it takes for a fan to cross the line while interacting with athletes during sporting events. In the last minute of the Seattle Seahawks' 30-24 loss to the Jacksonville Jaguars, Seahawks defensive end Quinton Jefferson was heading to the locker room after being ejected for his involvement in an on-field altercation. An object that appeared to be a beer then soared past Jefferson's head. The 6-foot-4, 291-pound Jefferson then stopped and came back to the sideline to yell at the fan who threw the beverage. Jaguars fans taunted Jefferson from the stands as he barked back at them. While being held back by stadium workers and team personnel, another drink flew past Jefferson. That last drink was Jefferson's breaking point, as he ran to the railing of the stands and attempted to climb up before stadium security pulled him back down and finally exited the game.
"Just because I'm playing football, I'm still a human. I'm still a man," Jefferson said. "What would you do?"
On Dec. 4, in a Cleveland Cavaliers game against the Chicago Bulls, a fan recorded a nearby fan's trash talk to LeBron James while he was on the bench. The fan heckled James about his hairline and not being able to keep point guards like Kyrie Irving or Derrick Rose on his team. James told the fan to "shut up" multiple times before going in for the kill.
"I hope that ain't your girl next to you because she's filming me, bum," James said in the video.
Nov. 19, 2004 is one of the more memorable days in the history of sports because it showed exactly how far professional athletes could go if there were no restrictions on trash talk. The "Malice in the Palace" had 6-foot-11 guys like Jermaine O'Neal knocking fans out cold with one forceful punch. The same fans who booed and name-called Indiana Pacers forward Ron Artest were the same fans who ran away once Artest ran into the stands.
A lot of fans have this notion that athletes aren't actual people and that fans have a right to say what they please in the heat of competition. That notion is completely fine too if the fans already understand the risk of being banned from stadiums before making that decision. However, fans should also be aware that, just like any other situation in life, if they say or do these things to other humans much larger and in better shape than them, they'll have to deal with the possibility of attempting to stand their ground in a fight with those athletes.
Go to the next page to see the video of the Jefferson altercation.