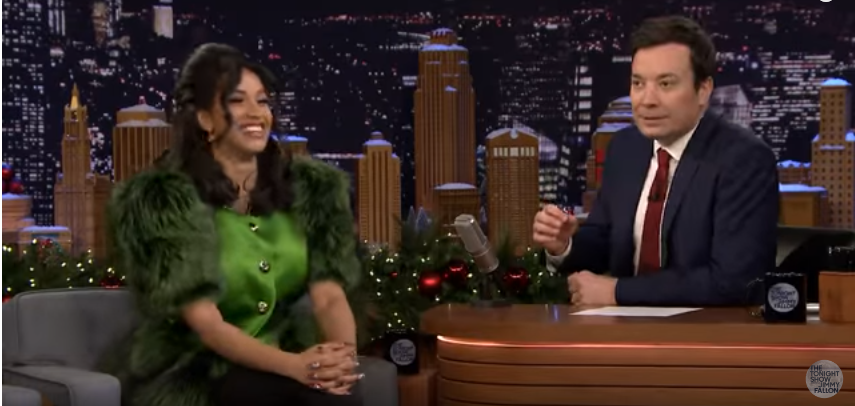 Multiplatinum music maven Cardi B kept "The Tonight Show" audience in stitches Wednesday night with her unique personality, and Jimmy Fallon played out one of the most disjointed interviews he's conducted. 
Fallon wanted to know all about her rap career, how she felt about the Grammys and her engagement to Migos' Offset. She looked festive in an incandescent green outfit that included a jacket with furry sleeves.
Fallon was frequently wracked by giggles himself when the Bronx native kept giving kitty noise as answers to his questions.
Cardi also trilled her tongue to respond to other simple questions, stumping Fallon as he attempted to keep the interview on its normal arch.An example of this is when he asked her how she got her stage name (see below). 
When Cardi was asked if she knew that Offset was going to propose to her, she responded, "No, I mean you know he always used to say something like, 'I'm gonna marry you.' And I was like, 'It's the right thing to do,'" while tilting her head back. "I knew he was going to give me a costly gift cause he wasn't there for my birthday, so I thought that he was going to give me a watch or something. I mean he just went out of his way."
While she was talking, she gave her tongue a roll. Fallon was just sitting there looking as if didn't know how to respond or carry on.
Fallon also brought up how her debut single, "Bodak Yellow," was the first song by a solo female rapper that shot straight to the top of Billboard Hot 100 since Lauryn Hill's "Doo Wop (That Thing)" in 1998.
Cardi said that she is so proud of herself – which produced more laughter because of how she enunciated her answer – and she also explained that her work is finally paying off. Fallon concluded the interview by telling the rapper he loved her very much and he wrapped his arms around her.
Check out the interview in full below: