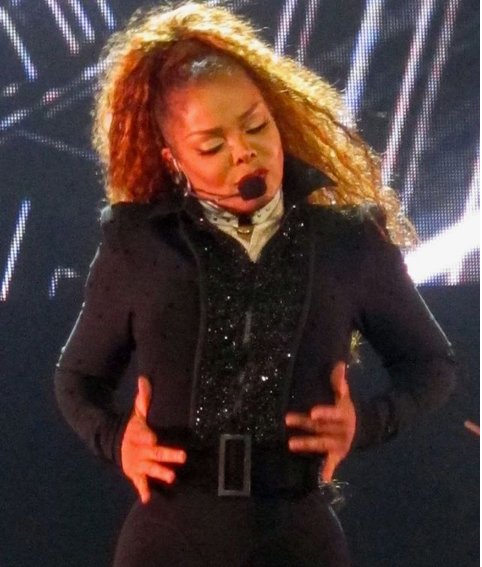 Folks are convinced that Janet Jackson fled the toxic home of her billionaire husband to return to the clutches of ex-boyfriend Jermaine Dupri.
Right after the legendary singer's final concert at Philips Arena in Atlanta, the star headed to her exclusive after party at STK restaurant, where a source says she spent some private time with her ex, Atlanta-native music producer Jermaine Dupri.
"They were in a private area at her exclusive tour wrap party," a source tells People, adding that the pair "were cuddled up in a private booth holding hands."
Jackson, 51 — who split from Qatari businessman Wissam Al Mana in April and has been embroiled in a tough custody battle ever since — reportedly parted ways with Dupri, 45, back in 2009, after what the source calls a "bad breakup."
"They didn't speak for years until about a year ago," the source told People. "[Dupri] felt like he had wronged her. But they reconnected and he was there for her as a friend while she was going through her messy breakup."
While the source says the pair is not officially back together, there's a sense that could change. "They are taking their time, getting to know each other again," the source admits.
Janet gave birth to son Eissa back in January, just three months before announcing her split from Al Mana — "She's looking great and feeling great," a different source tells People. "Eissa has been with her and he is doing so well. Atlanta was the best place to finish out this tour."
Check out the funniest, wittiest social media responses to the rumors that the couple have rekindled their romance:
She got her beautiful baby and went back to the man she loved RT @TheSource: Janet Jackson and Jermaine Dupri are reportedly "100 percent back together and in love." https://t.co/h8NC2aHUSU pic.twitter.com/4ou9v3pLWq

— #RestWellMikeBrown (@Drea_TheCreole) December 20, 2017
So Janet left Dupri, went overseas, double secured the bag, came back, got her boo, her baby, her bundles, and enough side money to restart So-so def.

A scheme. A setup. An icon. 🙌🏾🙌🏾 https://t.co/1hMKUsDjrT

— George M Johnson (@IamGMJohnson) December 21, 2017
Jermaine Dupri being back with Janet Jackson is a victory for short men. Congrats, lil fellas. Ain't no mountain high enough!

— THE CHAMP!!! 🐏🏀🏆 (@LBrothersMedia) December 21, 2017
Jermaine Dupri: I want you to go marry a billionaire and bring that money back to us so we can thrive.

Janet Jackson: pic.twitter.com/pV8xEgayCO

— The Dream (@_Shakeem) December 21, 2017
Ewww Janet Jackson want Jermaine Dupri…again?! Yuck lol them short dudes be giving you feels and I'm not interested 🙅🏾‍♀️😂

— Fife Dalí (@NuthinOnBartee) December 21, 2017
Jermaine and Janet look like they into some wild shit anyway LOL

— Fly ♉ Enchantress (@msLAreid) December 20, 2017
Jermaine has a whole ass Janet tattoo on his body. Don't let that man regret that dumb ass decision lol

— Mr. Joe Schmoe 🎧🎵🎥🎬 (@HenJoeSchmoe) December 20, 2017
Jermaine Dupri and Janet are together. Britney, Paris, and Lindsey are hanging out. OJ is free. People are wearing denim on denim. And we're on the verge of financial collapse.

The early 2000s are back!

— shubina (@shOoObz) December 20, 2017
What is Janet Jackson doing with Jermaine Dupri? pic.twitter.com/dKgDlx47te

— Keaton Loans (@_CoolStoryCori_) December 20, 2017
Janet Jackson took back Jermaine Dupri in case you had any doubts about how lit 2018 gonna be

— Donnie Snarko (@geraldinreverse) December 21, 2017
Janet Jackson married and had a baby by a billionaire and is now back with her day one Jermaine Dupri. What a life

— g🌻 (@gabbygoonz) December 20, 2017
She got her beautiful baby and went back to the man she loved RT @TheSource: Janet Jackson and Jermaine Dupri are reportedly "100 percent back together and in love." https://t.co/h8NC2aHUSU pic.twitter.com/4ou9v3pLWq

— #RestWellMikeBrown (@Drea_TheCreole) December 20, 2017