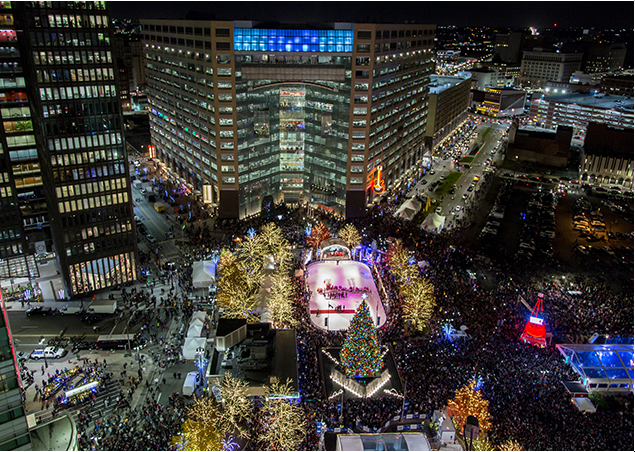 Looking for exciting and fun things to do in Detroit for NYE? Well, we've got options.
Maybe you're a native Detroit resident, or maybe you're simply in town visiting. Whatever the case may be, if you're in Detroit for NYE, then you're in for a treat. This winter, Detroit has been transformed into a wintery oasis where you can shop, eat and play. We're talking about shopping at  uniquely-styled pop-up markets; or eating at tons of new restaurants including a seasonal Biergarten, a rotating lineup of exciting food trucks and several specialty food markets; and/or playing at several popular spots, including Campus Martius Park where you can go ice skating, or Cadillac Lodge where you can relax and kick up your feet up inside the rustic-style lodge, or take a horse-drawn carriage to Spirit Plaza where you can duck into one of the igloo-styled huts. Yes, there are actually igloo's located in downtown Detroit. Crazy, right? Well, it's all here for you and thanks in part to Bedrock Detroit and Quicken Loans, here are several options for you to choose from to make your NYE 2017 in Detroit one to remember!
Sunday, December 31, 2017: Winter in Detroit NYE Activities/Events
48th Annual Bell Isle New Years Eve Family Fun Run & Walk
The Motor City NYE Drop 2018 at Beacon Park
Cheers to a New Year at the Detroit Foundation Hotel
NYE Resolution Ball 2018 at the Fillmore
Motor City Gala at the Antheneum Suite Hotel
New Year's Eve at the Wright & Co.
DSO New Year's Eve Concert at the Max M. Fisher Music Center
Stay up to speed on all the exciting happenings going on downtown Detroit this winter by following @WinterInDetroit on IG, Twitter and Facebook.
Photo Gallery Credit: www.WinterInDetroit.com