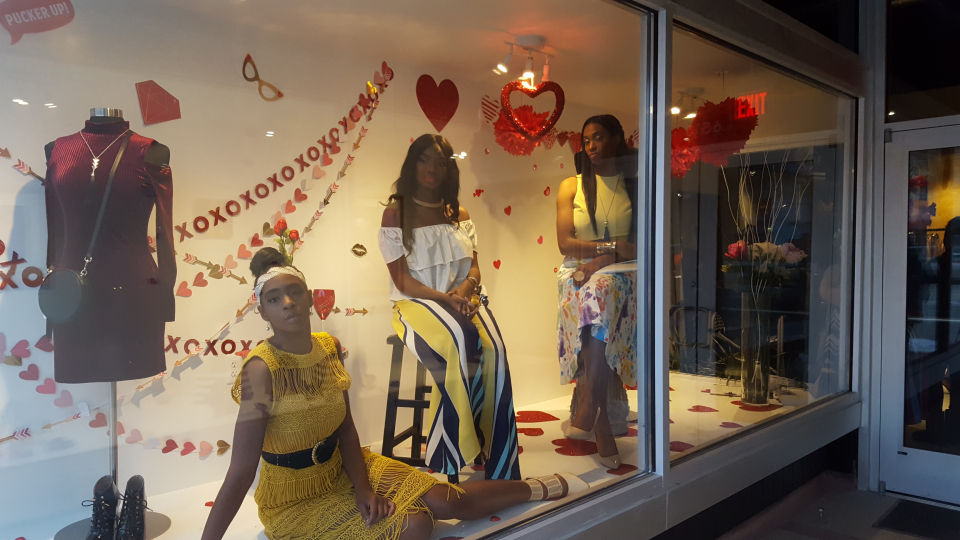 The NorthEnd Collective is Detroit's newest shopping and art destination. Located in midtown Detroit, the eclectic retail space celebrated its grand opening, Saturday, February 4. Boasting 2000 square feet of fashion fused with art, it's named after its historic location. The collective is comprised of four Black women-owned businesses; Purple Love LLC, an accessory boutique; UnitedFront a contemporary dress and skirt boutique; The Traveling Pants Co., a mobile boutique with unique conversation pieces focusing on timeless style for women; and Live Coal Gallery; a local mobile art gallery and museum. Each one brings distinct contributions to this collaboration.
"If you think you are too small to do it — you're not," said Brittany Chanel, owner of Purple Love LLC. "We're collectively working together to push our individual businesses and everyone that's in here, together."
Showcasing art from various mediums, Yvette Rock of Live Coal Galley has a vision to help "spread and foster passion for art, community and learning." She revealed that her gallery is a pop-up with future plans to expand.
Jordette Singleton owner of United Front, is confident that, "You can't find any of the things that are in here at a mall or boutiques that are outside of the city." She advised aspiring collectives to build, "Positive relationships and network from the very beginning. You need to build a community of people that you are able to work with."
The celebration was jam packed with supporters who enjoyed a photo booth, music, munchies and wine, all while shopping. A strolling fashion show styled by celebrity wardrobe stylist Marv Neal gave attendees a visual treat.  "I love Black women," he said about his inspiration. "I try to make women look sophisticated, yet still sexy and strong." Known locally and internationally for his fresh style, Neal expressed pride in the progression from his roots, "I grew up in this neighborhood."
Living a dream that is now her reality, proprietress Deidra Hogue of Traveling Pants wants customers to "leave knowing that they've had an experience." Coming to the NorthEnd Collective will be "more than just shopping and finding great deals," she said.
For more information, visit http://midtowndetroitinc.org/.
Photos courtesy of @idarrenclark