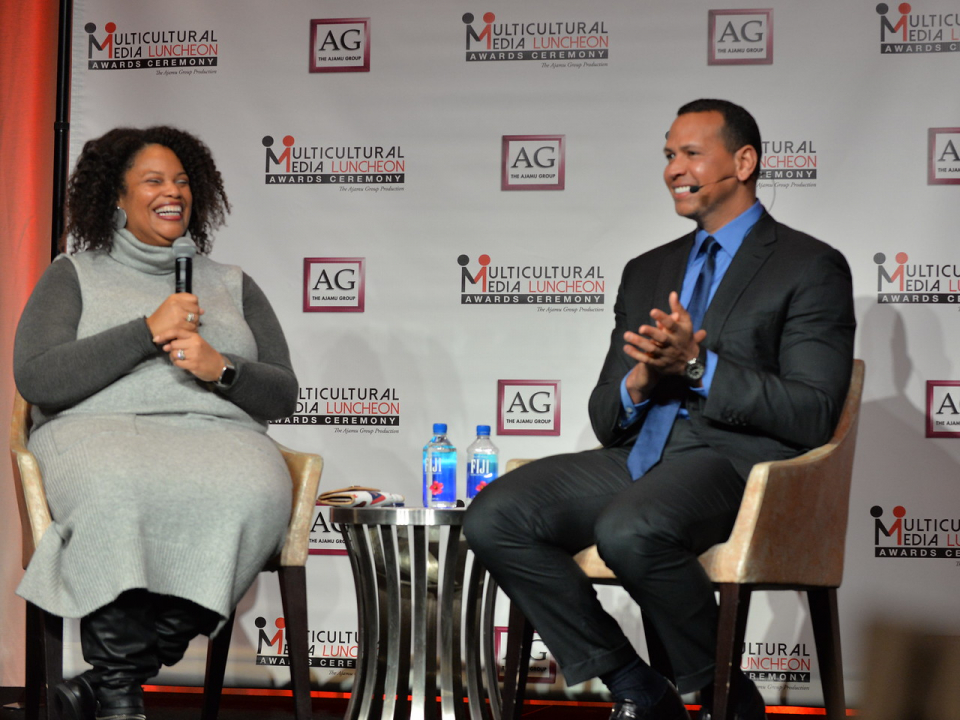 The Eighth Annual Multicultural Media Luncheon, which dubs as an automotive industry awards ceremony, featured former New York Yankee, World Series Champion and former Mercedes Benz auto dealer, Alex Rodriguez, as the keynote speaker. The event, powered by Toyota, was held on Thursday, January 18, 2018 at the MGM Grand Detroit Meetings & Event Center. The Academy Awards style program, which honors ethnic groups for outstanding achievements in the automotive industry, was created by founder and CEO of the Ajamu Group, Cheryl Parks-Ajamu. The sold out event is held annually during the North American International Auto Show press week in Detroit, and has been called "…the most prestigious event during the Detroit Auto Show Press week" by automotive industry leaders.
During the luncheon, Rodriguez delivered an inspiring message on "Maintaining Brand Equity" where he touched on his truths about life lessons from baseball, giving back to his community, being a real estate magnate and much more. The fireside chat interview was moderated by Toyota's own Mia Phillips, national manager, Brand, Multicultural and Crossline Marketing Strategy, Toyota Motor North America, Inc. and also allowed for questions from audience members at the end of the chat. When asked about some of the projects that he's committed to, Rodriquez responded by saying, "One of the projects that I'm very excited about is Project Destined. Basically, we go into inner cities, and we arm kids with everything there is to know [about] buying a property. We go in, we teach them how to buy a property, how to find it, how to underwrite it, [etc.]. They come in on a Thursday, we usually bring in DJs, we usually bring in chefs. And after those four days, we end up buying the property, the students get to earn up to twenty percent of the property and that twenty percent ends up paying for their college. If you get a chance, go on our website at www.projectdestined.com and also on Instagram. It's a wonderful, wonderful program."
Rodriguez also touched on the reason for his start in entrepreneurship. "Of 750 [baseball] players, less than 5% have a college degree. So, I'm not a stock broker, but with that information alone, I would short that stock. And that's why over 70% of our players end up bankrupt. So, I started out of fear. I was terrified my rookie season. I wanted to get into real estate. Something I actually understood, because we never owned anything, and we always rented our apartment. It seemed every third day, the rent was due. I remember as a 12 or 13 year old by, I got down on my knees and said if I could ever trade places would the landlord, I would. So, I bought a duplex. Cut to today, we own and manage over 12K apartment units in 14 states."
The event also honored Jeannette M. Abraham, founder, president and CEO of JMA Global LLC., a tier 1 supplier to the automotive industry, with a Lifetime Achievement Award for her 50-year career in the industry. Other awards were presented in the areas of automotive design/engineering, multicultural marketing, social media and multicultural television commercial of the year. After the luncheon, there was a VIP reception held in Rodriguez's honor where he graciously took pictures with all of his VIP guests. The reception also featured the music of renowned saxophonist, composer, and producer Randy Scott. A portion of the proceeds from the event went to benefit Project Medishare, an organization that assists Haitians in providing and receiving access to quality health care, and Orchards Children's Services of Michigan, a foster care and adoption agency.
Take a look at some of the photo's from the prestigious event. Let us know your thoughts in the comments section. (Photo Gallery Credit: Hobson Media Group)