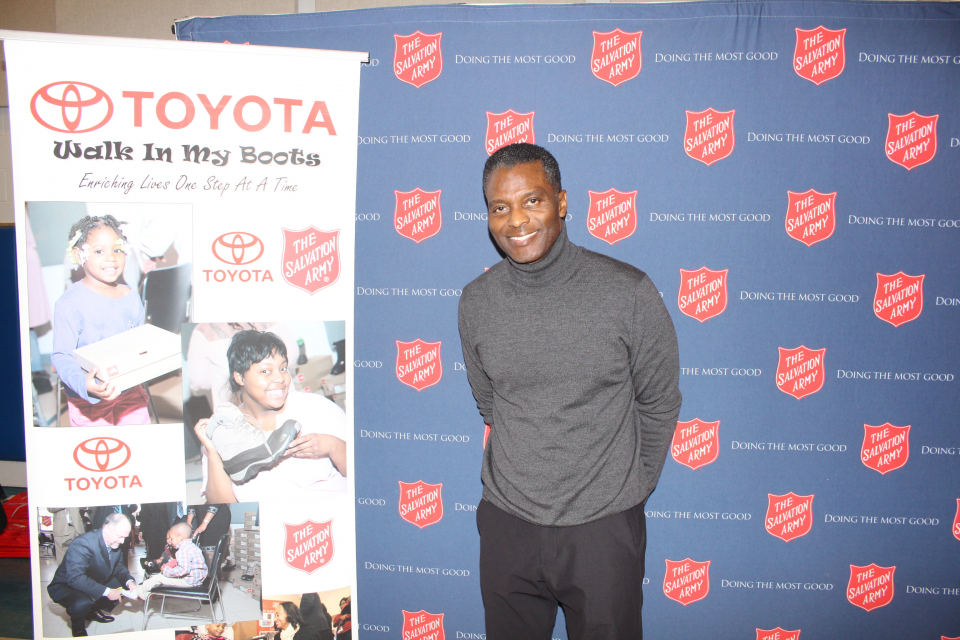 Having a purpose in life gives your life meaning and direction. Living a life of purpose gives you an incredible amount of ambition and energy that keeps you going, even when you feel it's impossible. However, when you have a clear purpose, you set clear goals, make clear plans and take clear daily actions.
Al Smith Jr. of Toyota knows all too well about living a life of purpose. He has had a promising and purpose-filled career at Toyota for over 27 years. Smith has worked in a variety of leadership roles that have led him to his current position of chief social innovation officer. One important purpose in his career was that he was credited with being a part of the team that launched the diversity and inclusion initiative at Toyota back in the 1990s. He had a clear vision and acted on it, and diversity and inclusion continue to have a major impact on the way Toyota does business today.
Recently, Smith joined his team in Detroit for the kick off of the North American International Auto Show (NAIAS) in support of one of Toyota's important and purposeful community outreach programs, the seventh annual Walk In My Boots program.
Rolling out caught up with Smith during the event and talked with him about the role of a chief social innovation officer. We also spoke to him about why the community outreach program Walk In My Boots is so important to both himself and to Toyota. One of the things he touched on when doing the program welcome was ensuring that our communities are successful. He said, "At Toyota, we believe that furthering our success in the community is the key to our success as a company. We can only make the world a better place by living the values that we have around quality, respect and inclusion and the treatment of people."
Check out the entire interview below. Leave a line or two in the comments section to let us know what you think.
You're the group vice president and chief social innovation officer of Toyota North America. Tell us about your role with Toyota and how long have you been in it. What is a chief social innovation officer and what are your responsibilities?
I have only been in this role for less than a year but I have over 27 years of experience with Toyota. I've worked in virtually every area with Toyota: sales, marketing and most other headquarter roles that I have held over the 27 years. Matter of fact, I was one of the people that launched the Diversity and Inclusion Initiative back in the late '90s. As chief social innovation officer, I have four distinct responsibilities:
Philanthropy, or what we call shared impact. We call it "shared impact" because it is more than just signing a check. Now we try to leverage our know-how with our community partners and help those community partners introduce things like production, improvement activities and new efficiencies to their operations. And we still support them financially.
Another area of responsibility of mine is environmental sustainability. We want to make sure that every place we do business and every plant that we operate has a green initiative in place. [Those businesses] are doing everything they can to improve the environment where we operate.
The third area that I have responsibility for is diversity and inclusion. It's all about building inclusive culture, not only in our headquarters but also in every business that we touch.
We also are looking at things like social mobility and bringing mobility to underserved communities, as well. We look at that as a part of our responsibility.
Tell us about your role with this program, Walk in My Boots, and why it is so important to you.
This program has been in place for about seven years. This is my first year participating, but I can tell you we always try to focus on communities that we feel could use our support. For us, it has always been more than just selling cars and trucks. We try to focus much more on supporting the communities that we know are buying our cars. We know that if we have vibrant communities, we can sell more cars and those vibrant communities can do greater things with the mobility that we can offer with our product. So, it's a partnership but when it is not a partnership and we see opportunities where we can really uplift communities, we are in there, as well. So, it is not always about selling cars. This is exciting for me personally because I see a lot of faces that look like I did when I was young.
As a corporation, social responsibility should be very important. Why do you continually support the Walk in My Boots program?
From time to time, we all need help, we all need some support. Whether it's emotional support or financial support, or just a handshake or uplifting [words]. This is a situation where the investment that we would make and the impact that it would have is long term. I think that this is something that we should stay close to. It's serving families who are in need. [This program] is giving young kids the opportunity to have boots [and] warm clothes. It is heartwarming to step in here and provide financial support in an area in the community that really needs it. The Salvation Army is a great organization and we enjoy partnering with them when we have the opportunity.