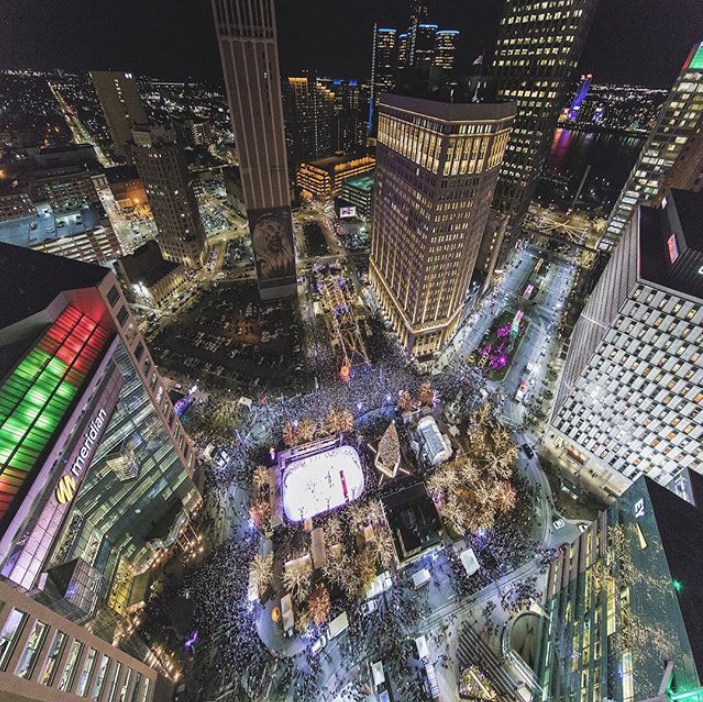 Last we checked, it's still winter in Detroit, which means sub-zero temps, snow-ridden streets, and possibly a lot of indoor activities that leave you longing to get outside. But luckily for you, Bedrock Detroit and Quicken Loans have come together to help you shop, eat and play and make your winter in Detroit an outdoor, fun-filled time to remember.
Even though the weather is frigid and frightful, there are still lots of activities taking place for the end of January. One event that is sure to bring out droves of people from all over the world is the North American International Auto Show (NAIAS) that is held annually at the Cobo Center.
Every year, this event draws an international crowd and is sure to surprise and delight. Eventgoers will get a chance to:
discover the latest debuts by the world's leading automotive brands and experience their favorite makes and models up close and personal.
see more than 750 vehicles on display representing the most innovative designs in the world, and
experience North America's largest and most prestigious automotive showcase.
The show opens to the public from Jan. 20–28.
Another worthwhile event taking place at the end of January is Detroit's Winter Blast. Presented by Quicken Loans, the event will take place from Jan. 26–28 and is sure to get you out of the house for one of their entertaining events, such as the Meridian winter slide, free ice skating, ski and snowboard lessons, a festive ice garden display, zip lining and an exciting polar plunge to benefit the Special Olympics of Michigan.
Take a look at some of the other cool events (no pun intended) going on in Detroit for the rest of the month.
Winter in Detroit Activities/Events
North American International Auto Show
Jan. 20–28
Experience the next generation of transportation at the North American International Auto Show 2018. See more than 750 vehicles on display representing the most innovative designs in the world, and experience North America's largest and most prestigious automotive showcase.
Talk: The Intersection 
Jan. 25, 7 p.m.
MOCAD (Museum of Contemporary Art Detroit) and Science Gallery Lab Detroit present the second installment of new monthly discussions. Bringing together artists who heavily incorporate various STEM (science, technology, engineering, and math) disciplines into their practice, and researchers and educators in related scientific fields, January's panel will feature New York-based artist Jonathan Schipper, Detroit-based artist and director of University of Michigan's MFA Graduate Program Osman Khan, and Michigan State University (MSU) teaching specialist Dr. Maddalena Fanelli. Together, they will explore how various engineering disciplines can be used as artistic tools to examine and critique the world around us.
Meridian Winter Blast
Jan. 26–28
Experience winter in Detroit like never before at Meridian Winter Blast. Meridian Winter Blast returns Jan. 26, 27 and 28 to Campus Martius Park in downtown Detroit! Meridian Winter Blast features winter activities, live entertainment, and delicious local restaurants for the whole family to enjoy. Some of the great winter festivities include the Meridian Winter Slide; Meridian sponsored FREE Ice Skating on Campus Martius rink sponsored by Bedrock Detroit, Marshmallow roasting courtesy of Downtown Detroit Development Authority, Professional Skating Demonstrations, MetroPCS Zip-Line and many more! You can't forget about Detroit's music scene either, which will be on display on two stages, with more than 50 entertainment acts performing!
For more information about Winter In Detroit, please visit www.WinterInDetroit.com. Check out the sizzle reel below to give you a feel for what to expect this upcoming weekend.