2018 Grammy Awards: Cardi B addresses rumor about working in studio with JLo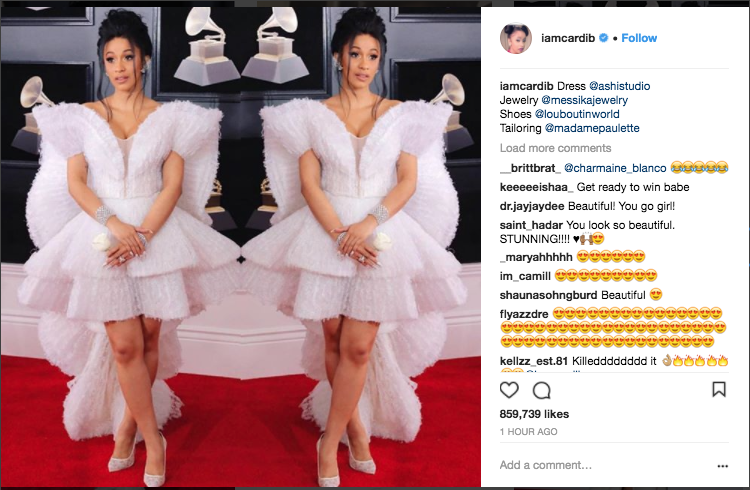 Hip hop darling Cardi B was spotted at Clive Davis' annual pre-Grammys party at the Sheraton New York. In an interview with "Extra's" AJ Calloway, the Bronx native shared what at this success means to her.
"I get to enjoy because I see my family enjoy it, I take them to places they never been before, I buy them things they never had, seeing beautiful places and the success and when I win something, it's a little bit overwhelming, but it's a lot of work," she says.
This past year has been one of phenomenal success for her. She has been nominated for two Grammy Awards, "Best Rap Song" and "Best Rap Performance."
She continues, "It's new, it's new, you got to have tough skin. I'm planning to have kids — not now, but someday. I got to make money for them."
Is she working with JLo? "Yo no se, papi."
Who she'd like to work with in the future? "I love Madonna and Lady Gaga — people don't know that."
On Sunday night, January 28, 2018, she hit the red carpet wearing at 60th Annual Grammy Awards at Madison Square Garden wearing a white butterfly gown by Ashi Studio which was tailored by Madame Paulette, jewelry by Messika Jewelry, shoes by Christian Louboutin. She was styled by Kollin Carter.
She hit the stage with Bruno Mars to perform their hit "Finesse." Here's what she told AJ the night before. "I am excited. It's going to be so cool! I'm excited and nervous, then I saw the seating and right in front of the stage is Beyoncé and JAY-Z… I'm like, 'Why you gotta do that me?!'"