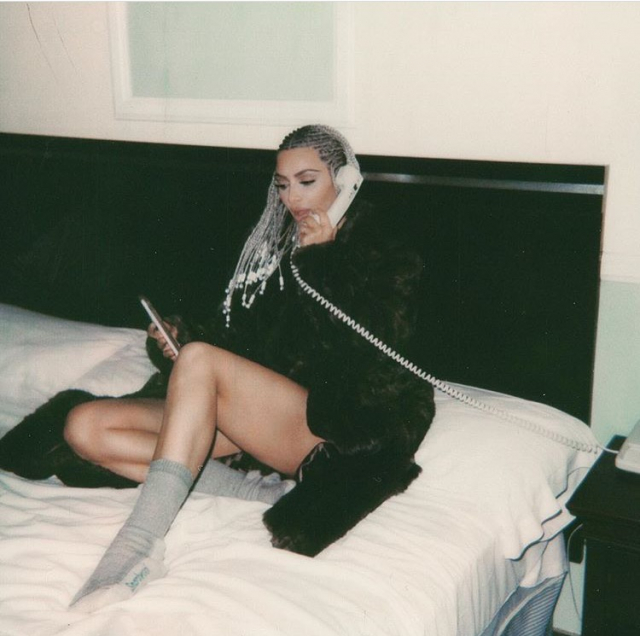 Kim Kardashian is facing some backlash once again for cultural appropriation.
The wife of Kanye West posted a video on Snapchat that showed her hair in Fulani braids inspired by the Fulani women of East and West Africa. The Fulani braids consist of braids with beads. However, the 37-year-old reality star did not credit the Fulani women. Instead, she credited actress Bo Derek, who is white, for the traditional African hairstyle. People of color have worn braids long before Bo Derek in 1979.
After her comments, Lindsay Lohan commented on one of Perez Hilton's posts on Instagram, calling Kardashian's braids "confusing."
Lindsay Lohan's comment sums up Kim Kardashian's new hair so well! pic.twitter.com/Y8nIkxszJ3

— Perez (@ThePerezHilton) January 29, 2018
Kardashian clapped back at the 31-year-old actress stating, "You know what's confusing…your sudden foreign accent."
Lohan showed off her new foreign accent in October 2016 during the grand opening of her Greek nightclub. A video began to float around on the internet, which left her fans confused. Lohan stated, "It's a mixture of most of the languages I can understand or am trying to learn."
People on Twitter were in a frenzy watching Lohan and Kardashian go at it:
kim kardashian dragging lindsay lohan??! whats next paris hilton and kim k reunion?? pic.twitter.com/nEBlzLB7xu

— kween (@xPatriciaBlack) January 29, 2018
Lindsay Lohan commented "I'm confused" under a photo of Kim Kardashian's braids and she replied with this comment. I am DECEASED pic.twitter.com/eLOeVxPp7h

— Jack (@J4CKWALSH) January 29, 2018
Lmao Lindsay Lohan and Kim Kardashian beefing?

— Nola Darling (@YoungKween) January 29, 2018
Is @KimKardashian really that moronic? Anyone and everyone knows when you spend enough time in a country, you pick up the accent-whether it's subtly or full on. I'm with @lindsaylohan 100%-I am confused with Kim K too. Cultural appropriation & so much thirst. Is she ok?

— Isabella (@GlamByIsabella) January 30, 2018
Looks like Yeezy has been training @KimKardashian on the art of the "clap back" and she put the new skills to work today against @lindsaylohan. Lindsay says she's just confused with the new Kim K look & Kim's confused about Lilo's new accent. pic.twitter.com/vfPIysJ82j

— Steve Alade (@2staralade) January 30, 2018
The Mean Girls and Parent Trap star has not yet responded to Kardashian's comeback.