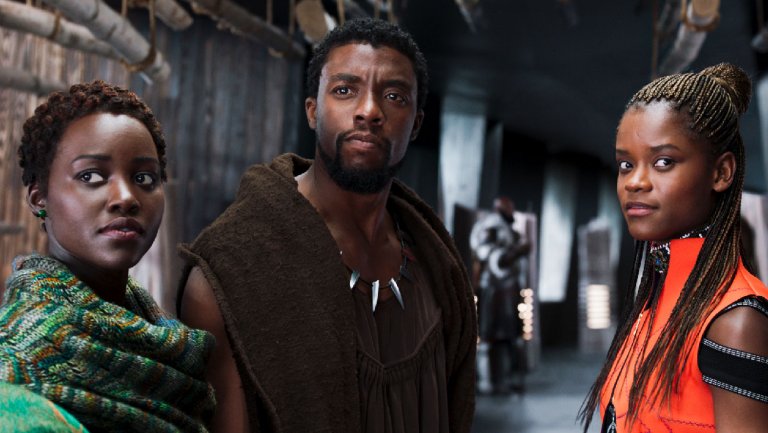 LOS ANGELES – In what is undoubtedly one of the most eagerly anticipated movie premieres in the history of Marvel movies, and arguably in modern Hollywood history, the cast and crew of Black Panther joined A-list celebrities and fans for the first viewing of the nearly all-Black film at the Dolby Theater in the City of Angels.
Early reactions from Black Panther have been effusive and will most certainly ratchet up the excitement a couple of more notches for urbanites to see the film on its Feb. 16 release date.
The press and social media have been furiously busy gathering the early responses to director Ryan Coogler's film, which stars Chadwick Boseman as T'Challa/Black Panther, as well as Michael B. Jordan, Lupita Nyong'o, Danai Gurira and Letitia Wright.
The reviews for Black Panther were overwhelmingly positive from the throng who got in to the exclusive event, with critics and fans praising the performances, the story, the costumes, the direction and the cinematic realization of the African kingdom of Wakanda.
Natasha Alford, an editor at The Grio, said the film will make a generation of kids growing up seeing superheroes who look like them, reported The Hollywood Reporter. The Los Angeles Times' Tre'vell Anderson called Black Panther a "love letter about Blackness."
ReBecca Theodore-Vachon, a former staffer at Forbes and RogerEbert.com, said Wright's Shuri and Gurira's Okoye were "important and necessary portraits of black women not seen in superhero movies before," according to THR.
Some of the reviewers on hand also lauded Coogler's ability to juggle multiple thorny issues such as identity and imperialism. And that's just the beginning of the praise for Black Panther. Check out a sampling from the audience in attendance at last night's exclusive red carpet premiere:
#BlackPanther is a love letter about blackness, to a world that often ghettoizes it without realizing that it is on black backs that this planet revolves.

This world's livelihood is in our blood. pic.twitter.com/FscW1hWbI6

— Tre'vell Anderson (@TrevellAnderson) January 30, 2018
And the representation of Black women in #BlackPanther made me feel seen. Seen in a way other superhero movies have not done well. pic.twitter.com/xrzVP5SLu6

— ReBecca Theodore-Vachon (@FilmFatale_NYC) January 30, 2018
I like rarely weigh in on movies. But, I loved Black Panther. And the guy sitting next to me — Laurence Fishburne — kept saying "Oh, Shit. Oh, SHIT." Now that's a review. https://t.co/Q5f8VSSPeD

— Joe Bel Bruno (@JoeBelBruno) January 30, 2018
'Black Panther' first reactions: It's 'astonishing,' 'iconic' and 'will save blockbusters' – USA TODAY's Brian Truitt hails the first superhero movie to star a black character "simply awesome" and a "top 5 all-time Marvel movie, easy."          https://t.co/TbTxdPh2nq

— Deon Guillory (@DeonWLTX) January 30, 2018
Black Panther. So very good. I cheered and laughed and pumped my fist. I've never seen a super hero movie like it. Everybody involved with it deserves a medal and a high five.

— Kumail Nanjiani (@kumailn) January 30, 2018
So you know how #ThorRagnorok was called the best reviewed Marvel movie to date — yeah, doesn't hold a candle to #BlackPanther. The movie has heart, well-developed characters and the emotional depth to keep you invested in all of the characters. And Michael B. Jordan, wow.

— Ricardo Lopez (@rljourno) January 30, 2018
Also, Ryan Coogler made the film his. The fight sequences had his fingerprints all over them, harkening to what he did with "Creed."

— Ricardo Lopez (@rljourno) January 30, 2018
Actor @michaelb4jordan's portrayal of the main villain Killmonger in #BlackPanther has already been commended by many… pic.twitter.com/EZl2ONR6QT

— MCU News & Tweets (@MCU_Tweets) January 30, 2018
#BlackPanther also has as great villain, which can been tough for superhero movies to get right. Actually, I cared a lot about many of the characters.

— Rebecca Ford (@Beccamford) January 30, 2018
#BlackPanther kicks so much ass. The King hits hard with his fists but harder with his words. Perfect counter programming to today's world. Wakanda Forever!

— Gerry Duggan (@GerryDuggan) January 30, 2018