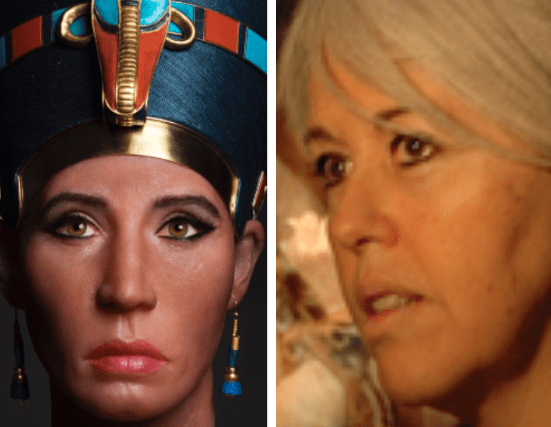 The Travel Channel is willing to tell the world that King Tut's mother resembled a White woman. The station will feature their "findings" on their series "Expedition Unknown" with Josh Gates.
Apparently, Gates and Egyptologist Dr. Aidan Dodson received permission from Egypt's Ministry of Antiquities and The Egyptian Museum to remove the protective glass case covering the 3,400-year-old mummy. With the mummy's remains, they decided to create a 3D replica of Queen Nefertiti's image.
The image was created by paleoartist Elisabeth Daynès. While on the "Today Show" Gates revealed the replica of Queen Nefertiti, which basically looked like a White woman.
But when the replica is placed beside the artist, Daynès, it seems Daynès basically recreated a younger version of herself. Daynès was born in the South of France and has been an artist for nearly 40 years. Yet, many believe she missed badly on this attempt. 
Overall, her version of Nefertiti is historically inaccurate. Egyptians shared DNA with sub-Saharan Africans who are a largely dark-skinned population according to a study published by Nature Communications. Some of the first modern studies on Ancient Egypt classified the remains as "Negroid." Even the art that was created by the Ancient Egyptians resembled dark-skinned people.
The notion that Queen Nefertiti resembled a White woman is another attempt to erase and appropriate Black history. It's unfortunate that the lie will be perpetuated on such a large platform.