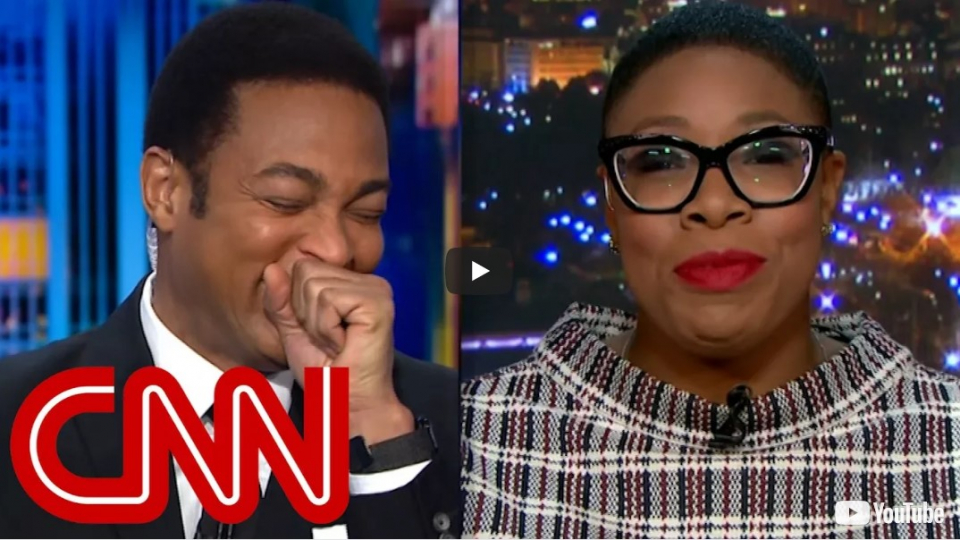 Virtually anything that Omarosa does nowadays is laughable, including her laughable explanation for her resignation-termination from the Trump administration, and laughably, her convoluted denial that she was forced off the White House campus by the Secret Service — despite credible journalistic sources reporting otherwise.
But what happened on CNN was next level laughter. Star anchor Don Lemon lost any semblance of composure when one of the guests tore into Omarosa Manigault-Newman's TV revelations on her time inside the Donald Trump White House.
The CNN anchor was crying with tears of laughter as CNN commentator Simone Sanders blasted the former Trump aide who is now starring on the show "Celebrity Big Brother."
"It's Black History Month. We gotta talk about Omarosa?" Sanders responded as Lemon dissolves into a bundle of laughter and tears.
Sanders continued to steamroll Omarosa: "I'm just saying. It's Black History Month; Carter G. Woodson did go to the mat to get Negro History Week, that was eventually turned into Black History Month, for us to talk about Omarosa on her apology tour and her attempt to salvage her reputation on a reality television show. Not during Black History Month, Don."
Lemon was laughing so hard that he had to pull out a tissue to wipe away his tears of amusement.
Lemon wasn't the only one in tears this week, although Omarosa's were for a very different reason. During her tearful chat with TV personality Ross Mathews, Omarosa yurned on the waterworks after being asked why she would work for someone like Donald Trump.
"As a voter, as a citizen, I never got it … why you went to the White House with him," Mathews said, to which Manigault-Newman replied that she felt taking the job was "a call to duty."
"I felt like I was serving my country, not serving him," she said.
Manigault-Newman also touched on Trump's hyper Twitter fingers, saying that she was "haunted by tweets every day."
"Like what is he going to tweet next?" she recalled.
Mathews, not totally buying Omarosa's explanations, further asks, "Does anybody say what are you doing?"
"I tried to be that person, and then everyone around him attacked me," she explained. "They were like keep her away, don't give her access."
Things took an interesting turn in the conversation when Omarosa described the happenings in the Trump White House as a "circus," suggesting that we should all be worried about the country.
"It's not my circus, it's not my monkeys," Manigault-Newman said. "I like to say it's not my problem but I can't say that because it's bad."
That prompted Mathews to ask the "Apprentice" veteran if the country should be worried, to which Manigault nodded her head to signify yes.
"It's not going to be OK. It's not," she added.
Check out the CNN segment below:
Source: YouTube/CNN