Independent artist Eric Roberson continues to break boundaries in a music industry dominated by major labels. The R&B crooner has been described as the original pioneer of the independent soul music movement. Having achieved major milestones in his career, including racking up several Grammy nominations, being a successful songwriter and producer for himself and countless others (Jill Scott, Musiq Soulchild, Dwele, Vivian Green, etc.), and owning his own label Blue Erro Soul, Roberson is continuing to make major waves in the industry. With his latest album trilogy Earth, Wind & Fire, Roberson is touring the country and tearing up the charts. Of his trilogy, Roberson says "Earth is self-empowering, Wind is the love and Fire is the message."
Rolling out had a chance to speak with the debonair singer at the Driven Experience 2018, A Tribute to Multicultural Achievement in the Automotive Industry event held last month in Detroit. We spoke about his newest album, his brand of music and his sartorial choices. Check out the interview below to see what he had to say.
Tell us about your newest album.
Last year we did a three-part trilogy called Earth, Wind & Fire. We made an album every three months. The first one came out in April called Earth. The next one came out in July which was a love album called Wind. We did a protest one that came out in October called Fire. We had a process where people watched me make the album.
What's your favorite cut on the trilogy and why?
With each album I had a songwriting moment. On Earth, there is a song called "the Hospital Song," it is a song about life. On Wind, there is a song about Clair Huxtable, my first number one crush. On Fire, there is a song about Tamir Rice, the 12-year-old [who] was a shot and killed by Cleveland police while playing with a toy gun. So those are my three [favorite] songs.
When are you going on tour with the album?
We've been touring. We will be in the Midwest more toward May. Right now, we are back on the East Coast. We've been touring ever since each album came out.
How do you describe your brand of music?
I call it honest music, following what I honestly feel at the time. I am an independent artist, I am my own boss, so I don't have to make songs to be approved. The main thing is I write from the heart and, I am a fan of all genres. I think it all seeps into my music and people are more than invited to enjoy my music. My main goal is always to show somebody that good music is still out there for you to enjoy. It may not be mine, but at least [with] listening to my music you will know that the music you love is out there — you just have to find it.
You look very dapper in your custom tailored suit, hat and shoes to match. How would you describe your style of dress?
My mother was a personal stylist and so I was taught at a very early age that you have to find your style. Me being a big guy, I can't just walk into any shop and find clothes. I am a hip-hop kid at heart, so I might wear a four-finger ring with a tuxedo one day. To me it has to feel good, I trust myself that in the same way that if something feels good musically then it feels good clothing wise. My style is dapper, Black and soulful. Soulful is very much rebellious while respecting the history. I have one suit that is European cut but with [a] Nigerian print. It's crazy [stylish] but, it pulls [it] off. I study the history and see what left and right turns I can make from it and make it with confidence.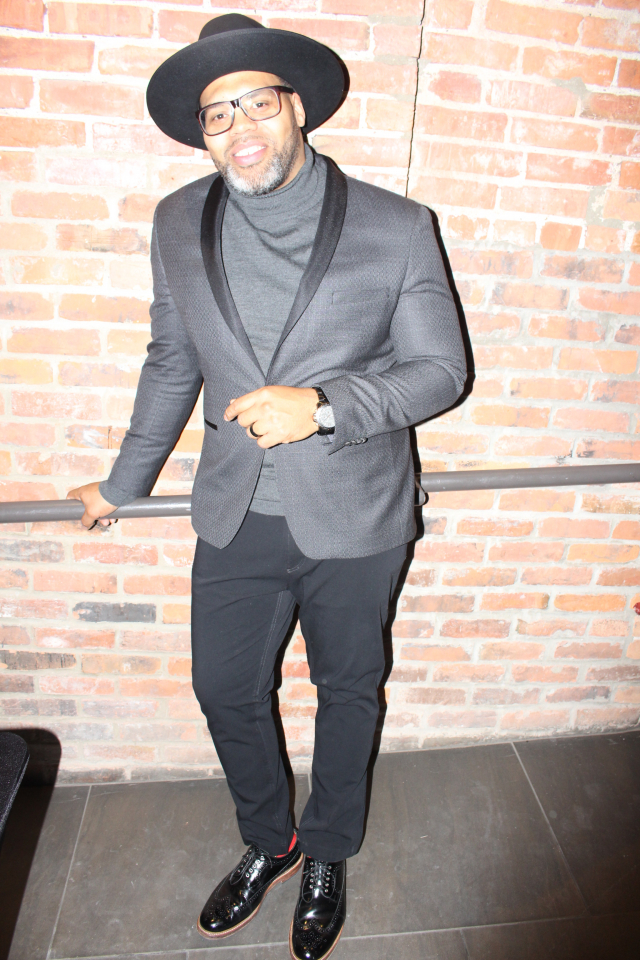 To find out details on Roberson's tour and more, follow him on IG @Erro44, Twitter @iAmEricRoberson and FaceBook @BlueErroSoul