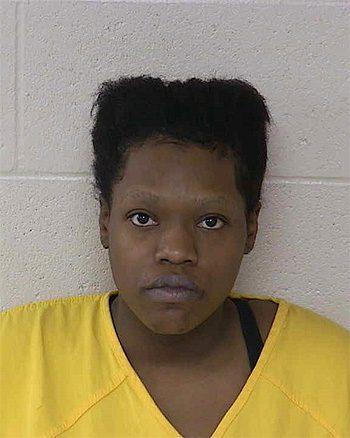 A female inmate in Pennsylvania was either going to get high as a kite, sell the drugs to other inmates or die from an overdose.
According to reports, Carema Lashandra Brown chose options one and two. She was busted with 78 doses of LSD, cocaine, methamphetamine, and a glass pipe that was carefully hidden in her hair weave while she was inside the jail.
Brown, 29, had obviously smuggled the various narcotics and paraphernalia into the jail following a prior arrest, according to court records and The Smoking Gun. 
Brown was initially busted on Jan. 5, 2018, for a couple of felony theft charges and tossed into the Jefferson County (Pennsylvania) Jail. Unable to post the $60K bail, Brown was detained at the jail in Brookville, a borough about 80 miles northeast of Pittsburgh.
It did not take long at all for Brown to make her presence felt among the inmate population. Less than a week into her stay, jail personnel opened a probe into the distribution of narcotics inside the facility. Authorities at the jail trapped two female inmates and they eventually confessed that they obtained the acid from Brown. They were going to be busted because their phone records indicated they had been using LSD.
Now with Brown as the primary suspect in the increase in distribution of illicit substances inside the jail, they focused their investigative tools on nabbing her.
The opportunity came, The Smoking Gun reports, when one of the inmates gave the investigative agents a note allegedly written to them by Brown.
The note read: "You b—-es sound bored! Get on my level! LOL," Brown allegedly wrote. "Please conduct yourselves in a discreet way. Just say I love you when you figure out what I'm talking about."
With three different witnesses pointing to Brown, coupled with a handwritten note, investigators were able to procure a warrant to search Brown's body and bunk.
According to The Smoking Gun, Brown was shaking like a stripper as agents searched through her hair. However, "Following the search of the hair no items were recovered," a probable cause affidavit reports.
Brown thought she was in the clear. She was not.
The next day, jail staffers found out why Brown was "trembling" so noticeably the previous day during the initial search. After the staff removed Brown's weave, they were shocked to discover that Brown had narcotics hidden under her fake hair.
A criminal complaint notes that investigators seized 8 ounces of cocaine, 8 ounces of meth, 78 doses of acid, and a glass pipe with burn marks. Brown's stay with the Department of Corrections in Pennsylvania just got a little longer.
The drug discovery led to the filing of 18 new narcotics counts (nine felonies and nine misdemeanors) against Brown. Her bail was set at $100K.