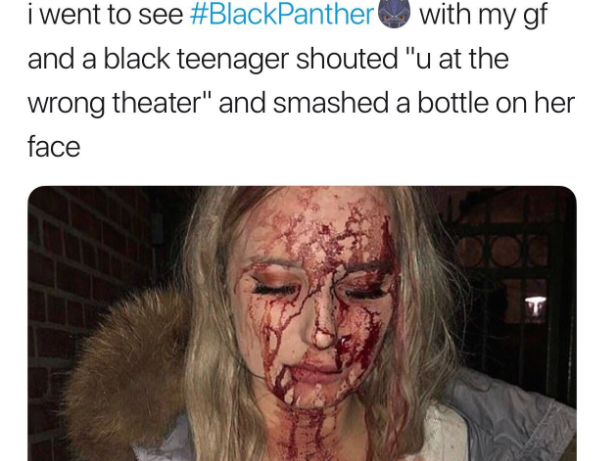 Black Panther has served as the ultimate moment for Black History Month 2018. The epic film, starring a Black cast and directed by a Black man, was certainly the most anticipated film of the year.
However, some White internet trolls are attempting to cast the film in a negative light. Following the opening day, several posts emerged of White people who claimed they were attacked by Blacks at the movie screening.
On a post that featured a White woman with a black eye, the caption read, "Went to the #BlackPanther premier tonight and my wife was assaulted. Three black women approached us and one said 'This movie ain't for you white b—- and then attacked her. Security escorted us to the parking lot and we left. We just wanted to see a movie."
The photo was actually White House employee Rob Porter's wife.
Another ridiculous post featured a White woman who had blood pouring down her face. The caption read, "I went to see #BlackPanther with my gf and a black teenager shouted 'u at the wrong theater' and smashed a bottle on her face."
The fake accounts and false reports of attacks is another example of how Black progression has always been met with a challenge. Although the internet trolls were discovered, their negative actions could have created a false backlash against a powerful movie that will make history in Hollywood and Black History Month.