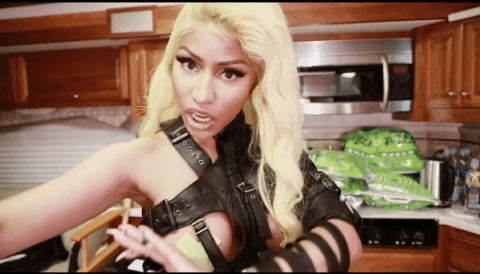 Theories and innuendos have been flooding Nicki Minaj's timelines on why the gregarious diva suddenly went ghost from all of her social media platforms without prior warning.
Some respectable publications stated the Pink Barbie was bunkered down in her studio nonstop, without coming up for air, in an attempt to churn out the type of music that will help her reclaim her musical throne from the likes of Cardi B, Amara La Negra and other rising stars who have monopolized the spotlight and controlled the narrative of female emcees in the hip-hop game. Even rivals Remy Ma and Trina have been revived their careers thanks to the Miami and New York editions of "Love & Hip Hop" reality shows, and the two veteran rappers are getting proportionately more press than Minaj as of late.
But now there are reports that Minaj is completely bald after suffering a tragic hair-related accident at the end of 2018 that explains her absence from center stage.
According to MediaTakeOut, Minaj had an unexpected accident with her hair that reportedly left her bald.
"When I saw [Nicki] my mouth dropped – she's as bald as Amber Rose," a source said to the site. "It looks cute on her though."
The entertainment publication further says Nicki's new bald look is what drove her to get ghost in the past six weeks – not her impassioned desire to record her album and again sit atop the summit in rap.
"I think Nicki is getting used to her new [bald] look before she shows the world," added the insider, according to MediaTakeOut. 
The source did not divulge how and why that accident took place.
Of course, the majority of the reports are saying that Nicki's absence from social media is motivated by the fact that she is feeling the heat from the newer, fresher hip-hop acts.
According to Entertainment Weekly, Minaj is working with various A-list rappers and producers including Young Money, Mack Maine, and Lil Wayne.
According to a different insider, Nicki has every intention of snatching the crown out of Cardi B's hands in 2018.
The source told Celebrity Insider that Minaj's efforts to win in the game again are nothing more than a "friendly competition."