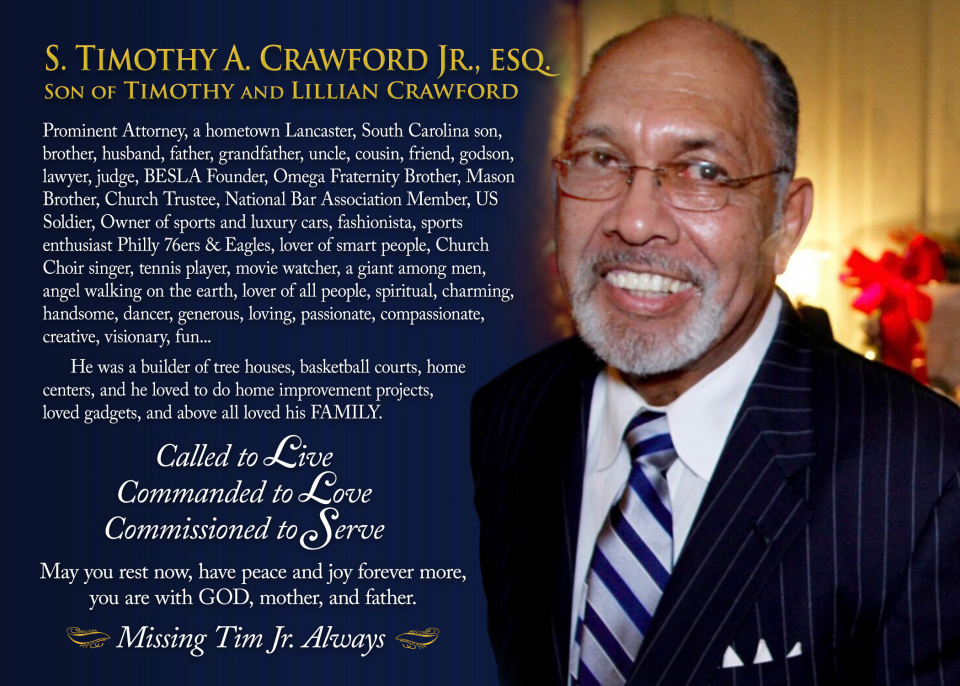 Timothy A. Crawford Jr. Esq. was a prominent attorney, civil rights activist and drum major for justice who used his captivating personality, his talent, and passion to help people through his law practice, various civic activities and mentoring. He was a loved family man, who was known for his generous spirit, infectious personality, and zest for life. Tim, aka "Top Cat," was a man whose presence would light up any room and inspire confidence and warmth in those he encountered.
Crawford, a native of Lancaster, South Carolina, was a family man who worked diligently to provide a beautiful life for his family. He decided early on that he would become a lawyer and his decision came to fruition years later. He attended Johnson C. Smith University where he joined the tennis team and became an impressive competitor. He also served his community as a member of the Omega Psi Phi fraternity and became an active participant in the struggle for social justice for African Americans. In 1961, along with other students, he helped to organize a sit-in at the lunch counter at a local Woolworth store. This historic anti-segregation protest has been memorialized at The Levine Museum of the New South in Charlotte.
Crawford also served his country in the United States Army, working at the National Labor Relations Board in Washington, D.C. Following his discharge, he made the decision to pursue his ultimate dream of becoming an attorney, and attended the Howard University Law School, and later transferred to North Carolina Central School of Law, where he received his juris doctorate degree. While at NCCU, he met his wife, Dorsena Howard who was from Philadelphia, and they married on Oct. 3, 1968. Philadelphia is also the city where Crawford moved his family to after graduation and later became a barrister under his mentor, esteemed Judge Juanita Kidd Stout (the first African-American woman to serve as a Justice on a state Supreme Court).
As a new attorney, Crawford had the fortunate opportunity to work with the distinguished attorney Ben Johnson at Johnson, Williams, King, McCrary & Johnson, a renowned law practice in Philadelphia. By the 1980s, Crawford established his own thriving law practice, Crawford, Leftwich & Douglas, where he successfully employed his legal forte in personal injury, entertainment, sports, civil, and criminal law. For four decades, he zealously advocated for clients, establishing himself as a leading and highly sought-after attorney. Recognized and respected as one of the top entertainment and sports lawyers in the country, he was a founding member of BESLA, Black Entertainment and Sports Lawyers Association and was affectionately known as one of the original "disrupters" of this organization. Crawford continued to be a positive influence, advancing the collective interests of attorneys and members of the sports, media and entertainment industries.
To name a few of his accomplishments, Crawford was highlighted in the Pennsylvania Judicial Review, appointed as a duly qualified and certified Mediator for the Court of Common Pleas to serve as Judge Pro-Term, was a member of the National Bar Association and in 2015 was awarded the NBA Living Legend Entertainment Attorney Award and inducted into the NBA Hall of Fame.
Crawford was preceded in death by his parents Lillian Henderson Crawford and Samuel Timothy Crawford Sr. He leaves to cherish his memory, his loving and devoted wife, Dorsena; his daughters, Timi Crawford Ellison and Nicole Crawford Conley; son Dane Dillard; son-in-laws Jason Conley and Pervis Ellison; grandchildren and many more including his youngest sister Marilyn as well as extended family and friends.
Crawford's sister Marilyn Crawford dedicated an ode to her late brother, which can be found on the next page.