Photo courtesy of Brandi Mallory / Photographer: Khalifiah Harris
Brandi Mallory is a celebrity makeup artist and fitness instructor for the health and wellness movement, Dance Your Pounds Off. Mallory's weight loss journey epitomizes the meaning of hard-work and determination. She first appeared on season four of ABC's "Extreme Weight Loss" in 2014, when she was over 300 pounds. At that time, she just wanted to change to a more active and healthy lifestyle. While on the show, Mallory positively transformed her eating habits and incorporated a rigorous exercise regimen. Since then, Mallory has pushed through her health challenges and is now dancing away her pounds and insecurities with Dance Your Pounds Off, an exhilarating fitness movement founded by celebrity dance fitness instructor Dwight Holt Jr. The Dance Your Pounds Off movement has been life-changing for Mallory, and she is striving to maintain physical fitness while motivating others to do the same. Mallory continually uses her social media platforms to encourage those who want to implement an active lifestyle into their daily routine.
Mallory spoke with rolling out about being on the television show "Extreme Weight Loss," giving advice on how to genuinely love your body, and her experiences of being a celebrity makeup artist.
What made you join ABC's "Extreme Weight Loss" television show? Tell us about your weight loss journey while on the show.
I just wanted to lose weight and I didn't know where to start. I had a sorority sister [who] passed away [due to] a heart attack. I started living in fear that I was going to be next. My mom and dad used to tell me to lose weight all the time, but when [my sorority sister] passed, it felt real. I wanted to change, but I didn't know what to do and I would pray about it all the time. One day I was sitting in front of the TV and "Biggest Loser" was having auditions. I auditioned in Cleveland and later found out I didn't make the show. In April of 2013, my phone rang and the casting coordinator from "Extreme Weight Loss" called me. Before [auditions], I was listening to Wale's "Ambition" and I told myself I have the ambition and fight to make [this] happen, I just need the help. They chose me [and] it's been the hardest and most rewarding thing I've ever done.
Being in the spotlight can have its ups and downs, can you tell us some of the positives and negatives that came after being on television?
I'm a Leo and I like attention, so it's nice to be able to meet people who have been following me since I've started my weight loss journey and hear their stories. When people reach out to me and tell me their stories, it keeps me focused. The positive is [knowing] another soul is counting on me to keep fighting. To change other people, you must change yourself. I like motivating people, this is something I have prayed to God for. The negatives were people identifying with the setbacks as opposed to the victories. The sucky part about reality TV is you have no control over what is done with the footage.
You recently went back to your alma mater, Clark Atlanta University, to involve students in the Dance Your Pounds Off fitness movement and encourage them to live a healthy and active lifestyle. Give us some background on Dance Your Pounds Off; how did this movement start?
Dance Your Pounds Off is an organization started by Dwight Holt Jr., an alum of Morehouse College. He was starting his business the same time I was doing my weight loss journey on the show. He was building his name and helping Mo'Nique with her weight loss [journey]. We met at Essence Festival in NOLA, and he asked if I would participate and co-host in his breast cancer awareness event. I love to dance, I love music and it came naturally to me. Weight loss is a mindset and for me I just wanted to continue to learn, grow and share my knowledge with people. I realized DYPO is a family when one person misses we check on them. My motivation for becoming a fitness instructor started with DYPO. The theme behind DYPO is more than dancing, it's dancing away the stresses of life; DYPO is a stress relief.
You are also a celebrity makeup artist, working with celebrities like Mo'Nique, Monae Giovanni and the new mayor of Atlanta, Keisha Lance Bottoms. What sparked your passion to become a makeup artist?
Clark Atlanta University sparked it. Other [students] would ask me to do pageants and photo shoots. I liked the feeling that I would have watching them enjoy what they look like. I like having a part of people's special day. I came to Clark Atlanta University as a speech major and while I was at Clark Atlanta University doing makeup, it all changed. My mom was livid and didn't understand, but I wanted to be a makeup artist. After one year of grad school, I headed full speed with makeup. I worked with comedians, actors and singers. No matter how hard things would get financially, I just kept telling myself I have to keep fighting for this. If I didn't make another dollar I would still find joy in doing makeup.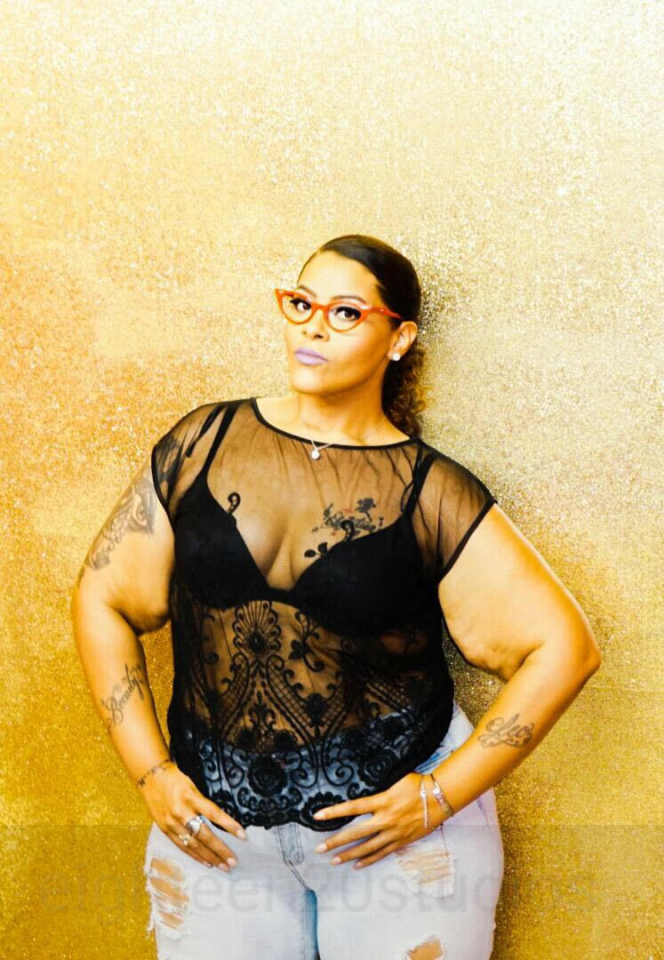 Photo courtesy of Brandi Mallory / Photographer: Eighteen20studios
You have undergone major weight loss changes in the past few years and it's not an easy journey but has been very inspiring to those who follow you on social media. What advice would you give to those who are insecure about their body image and struggle with low self-esteem?
If you don't love you, how can you expect someone else to love you? I hated my arms and I would ask God, "Why did you give me these arms?" There is a reason why this is my struggle. Looking in the mirror and feeling perfect but you don't look perfect to the untrained eye. I say untrained eye because people are blinded by physical attributes and ultimately that's not what's going to keep you happy. It's how somebody makes you feel is what matters. The #SportsBraShawty movement was me forcing myself not to care what I look like and just be. It's my body that's working hard for me and I am proud. Be appreciative of the body that you do have and learn yourself through and through.
Do you have any upcoming events or projects in the works?
Dance Your Pounds Off has classes every Monday through Wednesday at 7 p.m. I teach an 8 p.m. class on Monday with Dance Your Pounds Off. Classes are held at Rhythma Dance Studio, 555 Whitehall St. SW Atlanta. 
How can the readers get in contact with you?
Twitter: @BrandiMallory
Instagram: @brandimallory
Facebook: www.facebook.com/BrandiElizabethMallory
Stay tuned to Brandi Mallory's social media to find out the latest.