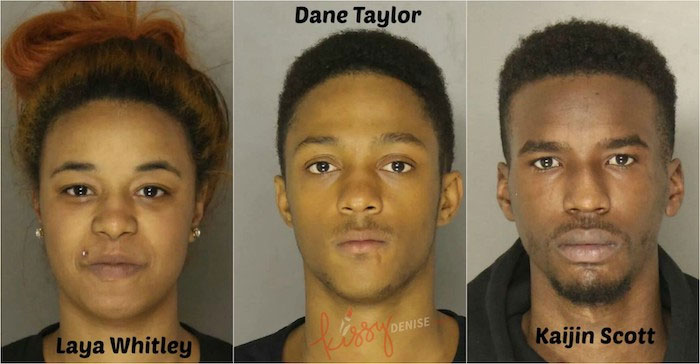 As tax season is upon the country, many hardworking Americans are starting to get refund checks. For some, it will be the largest check they receive all year and helps when times are rough. But for Keiauna Lynette Davis, 27, a single mom in Wilkinsburg, Pennsylvania, it would be the cause of her death.
On Feb. 22, 2018, Davis headed to work to start her shift at the local Dollar Tree. Her tax refund check had been deposited into her bank and her grandmother brought $3K in cash to her during lunch. According to police, her co-worker Alana Whitley became aware that Davis had a large amount of cash on her and her mind went to how to get it. She texted a friend identified as Dane James Taylor, 21, "This girl at my job brought 7 bands to work ain't that some sh-t."
Then, according to investigators, Taylor and Whitley came up with a plan to rob Davis when she got off work. Taylor contacted a friend, identified as Kajin Xavier Scott, 23, to help with the plan and drive him to the store. When the pair spotted Davis, Scott drove a distance away from her, stopped his car and pretended to begin fixing it. As Davis passed by, Taylor jumped out with a gun and began chasing her yelling, "Give it to me!" He chased her into a vacant lot where she fell. When she protested that she did not have any money, Taylor allegedly pushed her to the ground and fired at her twice. One bullet missed and the other struck Davis in the hip. They also took her money. Scott and Taylor fled the scene as Davis lay bleeding on the sidewalk. Taylor paid Scott $800, kept $800 for himself and gave the rest to Alana, according to police.
Someone called police when they heard gunshots and Davis was found gravely wounded and transported to a hospital where she later died. Police were able to obtain surveillance footage of the area and after talking to witnesses were able to identify the getaway vehicle and apprehend Scott. Police soon went into action and found the other suspects. All three were arrested and charged with robbery, criminal homicide, and conspiracy. Taylor was also charged with carrying a firearm without a license. They are being held at the Allegheny County Jail.
Keiauna Davis had two little girls, Azaylah, 6, and Aliviyah, 2. According to family, Davis had been planning to leave Pennsylvania to live with her mother in North Carolina. A Facebook fundraiser page titled "Young Mother taken way too soon" has raised over $12K to help with funeral expenses.