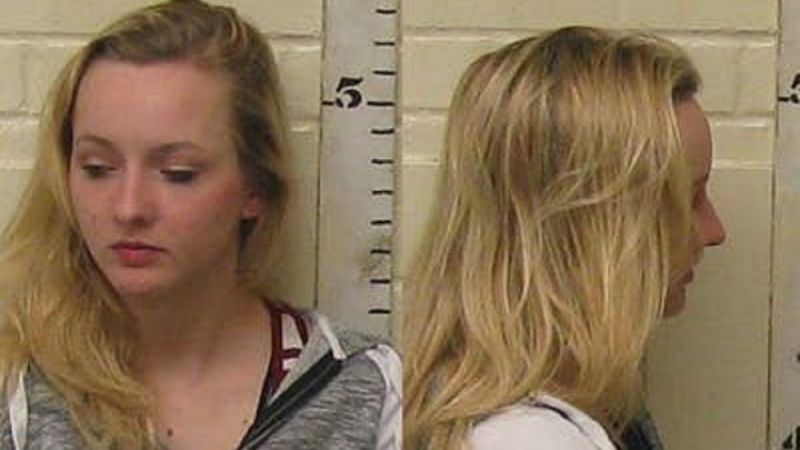 A teenager could possibly lose the prime years of her adulthood after she pleaded guilty four charges, all felonies, for filing a false police report stating that three Black men kidnapped and raped her in the woods of her hometown.
According to the Harold-Democrat, Breana Rachelle Harmon, 19, from Denison, Texas, is staring at 32 years in prison for her flagrant lie that jolted her relatively small town.
On March 8, 2017, Harmon reportedly went missing from her apartment complex, the newspaper reports. The door to her car was ajar and personal items were strewn about on the ground near her car, the newspaper added. A neighbor told police that he saw Harmon was walking her dog and smoking a cigarette at about 3:30 p.m.
The next night, around 8 p.m., Harmon showed up at the New Creation Church, the police report states. She claimed that she'd been abducted by three Black men in ski masks as she walked to her car to retrieve some items. According to Harmon, they took her to a wooded area where two of the men raped her while a third held her down.
Harmon then claimed she was allowed to leave after the sexual assault. The assailants also told her, Harmon said to police, that if they found her again, they would rape her again. Harmon then said she bolted to the church where the police were contacted.
The young woman's story began to unravel like a ball of yarn once authorities began the examination phase of the rape investigation. At the hospital, the nurse stated that there were no physical signs of rape and she believed Harmon made up the story about being sexually assaulted.
Upon further investigation, police then noticed inconsistencies in her story, one of which was the knife wounds she allegedly suffered didn't match the damage done to her clothing. Investigators confronted her about how the facts did not add up.
On March 21, 2017, Harmon finally folded like a lawn chair and admitted filing a false police report. When she was asked at the church if she was raped, Harmon indicated "yes" because she didn't want to alert her mother that she cut herself, something that she'd been known to do in the past.
Local police are thankful that no innocent person was apprehended based on Harmon's lie.
"Breana Harmon-Talbott's hoax was also insulting to our community and especially offensive to the African American community due to her description of the so-called suspects in her hoax," Burch said, according to the Harold-Democrat. "The anger and hurt caused from such a hoax are difficult and all so unnecessary."
A remorseful Harmon entered a plea of guilty Thursday, Feb. 22, 2018, to four felony charges of tampering with physical evidence and government documents. The judge set her sentencing date for March 20.