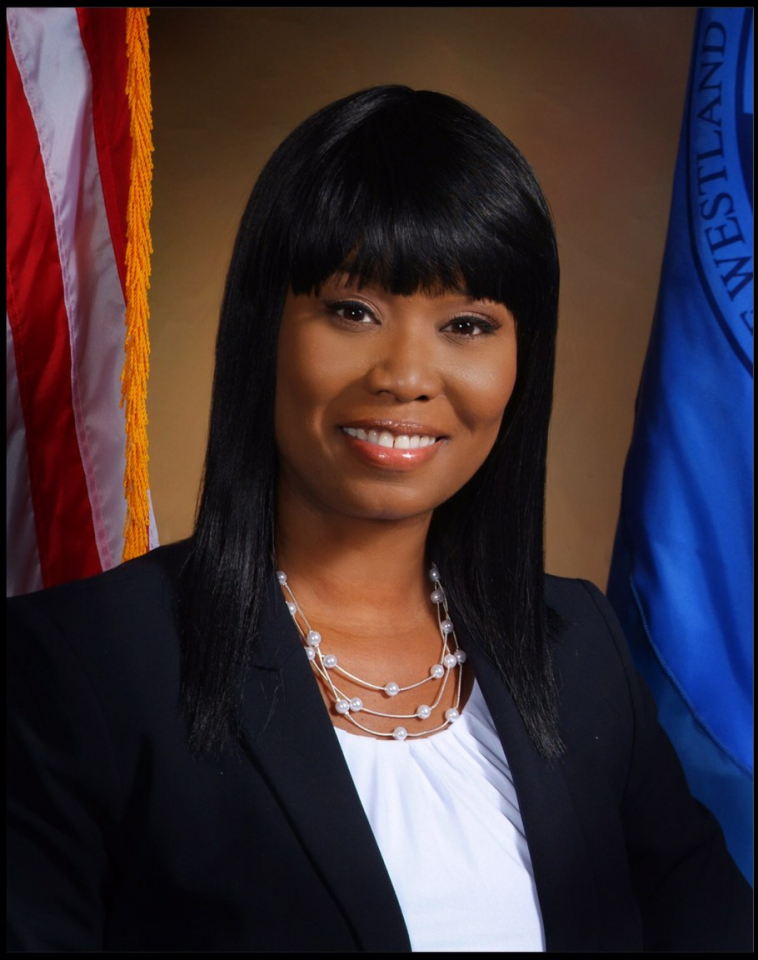 Tasha L. Green has devotedly supported her community during her 14 years of residency in the Detroit suburb of Westland, Michigan. Whether it was attending city council meetings, raising awareness for a worthy cause, or fighting for public safety, Green has always committed herself to the idea of creating a better community for Westland residents.
On Nov. 7, 2017, Green was elected as Westland's first African American female city council representative.
Aside from being Westland's first African American city councilwoman, Green maintains Green Titan Management, a well-established property management and construction company where she serves as the CEO. Her 17 years in housing and construction led to her attaining international accreditation in property management. She is a proud member of the Institute of Real Estate Management, the Detroit Metropolitan Apartment Association, the National Apartment Association, the National Association of Women in Construction, the National Association of Black Women in Construction, the Greater Metropolitan Association of Realtors and the Michigan Minority Contractors Association.
Rolling out caught up with this dynamo of a woman to discuss her thoughts on being a history maker and her plans while in office.
Congratulations on making history! Tell us more about yourself. When did you develop an interest in politics?
Well, I'm 42 years old, a small-business owner of a property management and construction company, a mom of one, and I have a huge heart to help people. My interest in politics developed over time after getting involved in several issues that arose in the city I've lived in for the last 14 years. Prior to developing a desire to enter the field of politics, I periodically attended city council meetings over the years to share my thoughts on tax assessments, lack of street lighting, crime and more recently, the termination of librarians who were attempting to unionize, as well as advocating for playground improvements in areas that were neglected.
Prior to running for office, I had no political aspirations, but instead a heart to help people. I had been in prayer for a long period asking God to use me as a vessel to help people in need and Westland City Council is what he put on my heart. From there, the rest is history.
You made history as the first African American woman to be elected to Westland, Michigan's City Council. How does that feel?
Being elected as the first African American woman to Westland City Council feels amazing! I'm still in awe of the support I received from residents throughout my city, of every age and ethnicity. My team and I worked hard to overcome multiple obstacles and adversities that can, unfortunately, be common practice when running for public office. We didn't take any days off, and vacations were out of the question. We did the work and I'm very grateful for the opportunity to help people on a larger scale now that I'm in office. I'm also grateful to not only bring about more change and diversity in Westland but to also be an example that you can do whatever you want to do in life.
What are some challenges you face as a Black female politician?
Well, I am one of seven Westland city council members, and my counterparts are white men. … My candidacy was not supported by the current administration, so I'm working to find my voice on the council and to impress upon them that I am just as capable and qualified to represent our city with excellence as each of our elected officials are. Being newly elected, I'd sum it up as an adjustment phase and I believe we [can] collectively get beyond this phase in time. My goal has always been to help people and my election indicated that a good majority of Westland voters want me to represent their best interest. That's what brings joy to my heart and keeps me motivated. It's what drives me to keep on standing.
Why did you make the decision to run for city council?
I think the decision was made for me. I could've easily [gone] in a different direction and I honestly did not foresee a political path for myself, but when you pray and ask God to use you, you must be willing to go in a direction that you didn't foresee or necessarily want for yourself.
Your title holds weight, especially in the Black community. Do you feel any pressure knowing that there's a lot expected of you, especially being a woman of color?
Not at all. What's different about me is that I don't care about a title at all. I get letters in the mail now that are addressed to "The Honorable City Councilwoman Tasha Green." … Twenty-three years ago, [I was] a brand-new 19-year-old mother on public assistance trying to go to college while working a dead-end job, and in a dwindling relationship. I worked my way up from entry-level positions in corporate America to now being a small-business owner of my very own company. Sometimes God allows you to go through hell so that your struggle and journey can provide a little piece of heaven to someone who needs help or encouragement later on. A title is nice but it means nothing if your heart isn't right and you're only in it for the fortune or fame. We have enough of those types of politicians. They're everywhere. Character is what matters most.
What is your 90-day plan?
Well, I'm roughly 45 days in and I'm currently on the policy and procedure committee. My goal when joining council was to help bring change to many of the archaic policies that do not promote transparency within city government or allow the council to do its job of being the checks and balances piece of our city. I've also been attending a lot of meetings and study sessions to learn as much as I can. My goal was also to join some of our city commissions to represent Westland in other areas but that request was met with a bit of resistance from my administration, so my current focus right now is on communicating directly with Westland residents to discuss their needs and working together with our administration to ensure resident voices are being heard and that their concerns are [being] addressed.
What is your advice to the ambitious Black female who aspires to have a career in politics?
My advice to any person who decides to run for political office, but particularly Black women, is that you can do whatever you decide to do but you must be willing to do the work. The untold story of politics can sometimes come with tears, disappointments, potential untruths being spoken against you, and if you allow it — fear. But it also comes with motivation, determination, people who believe in you, people who will help you, people and strangers who are quietly rooting for you and praying for you, and if you're lucky, it comes with people who will vote for you.
Where can our readers keep up with you?
They can find me on Facebook at Councilwoman Tasha Green, and they can also email me at [email protected]. Non-political inquiries can be sent to [email protected].