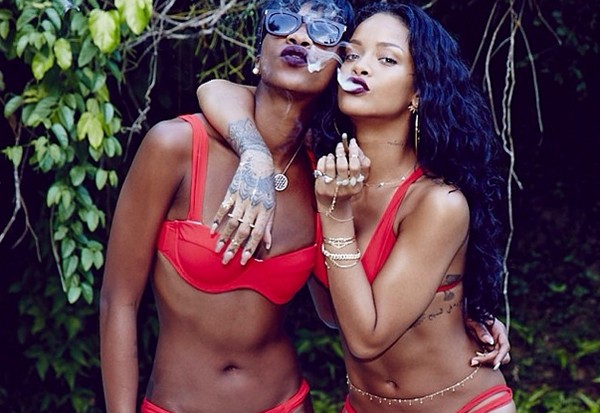 Now that the Barbadian beauty Rihanna has turned 30, she has created a list of goals she wants to accomplish — and one goal concerns troubled singer Chris Brown.
In late February, the sexy songstress celebrated her birthday with a celebrity-filled bash in New York city with her family posted up strong.
Legendary singer Toni Braxton performed and RiRi's billionaire boyfriend, Hassan Jameel, was said to be all over her the entire evening.
A source close to the "Rude Boy" singer spoke to Hollywood Life and said that after the big day, Rihanna wrote down a list of all the things she hopes to accomplish in the next few years.
Rihanna would love to get married, start a family, and make peace with Brown. The pair split after Brown assaulted Rihanna in early 2009. And while they briefly reunited, they were never able to rekindle that old love they had for whatever reason.
An insider told Hollywood Life: "Rihanna made a long list of goals after turning 30 this month. At the top of her list is getting finally married and starting a family. Dropping a new album, go on tour and being more creative in all avenues of her life. What also made a list was to make peace with some things in her past, including her history with Chris Brown."
The person added: "Rihanna is madly in love with Hassan, and she is starting to plan for a future with him. This is the first guy since Chris that's made her feel this way like she wants to settle down. She and Hassan mostly meet up in Europe; it is a good midway point for them. But now she is talking about making it her full-time base so she can have even more time with him."
According to the family friend, the couple is not in a rush to get married or start a family.
The pal claimed: "They are serious, and now that Rihanna has hit the big 3-0 she is thinking about stuff like marriage and family a lot more. She always thought she would have several children by this age, so that is on her mind now too. She and Hassan are not rushing into anything, but that is where her head is going. It seems like she has met her Prince Charming."