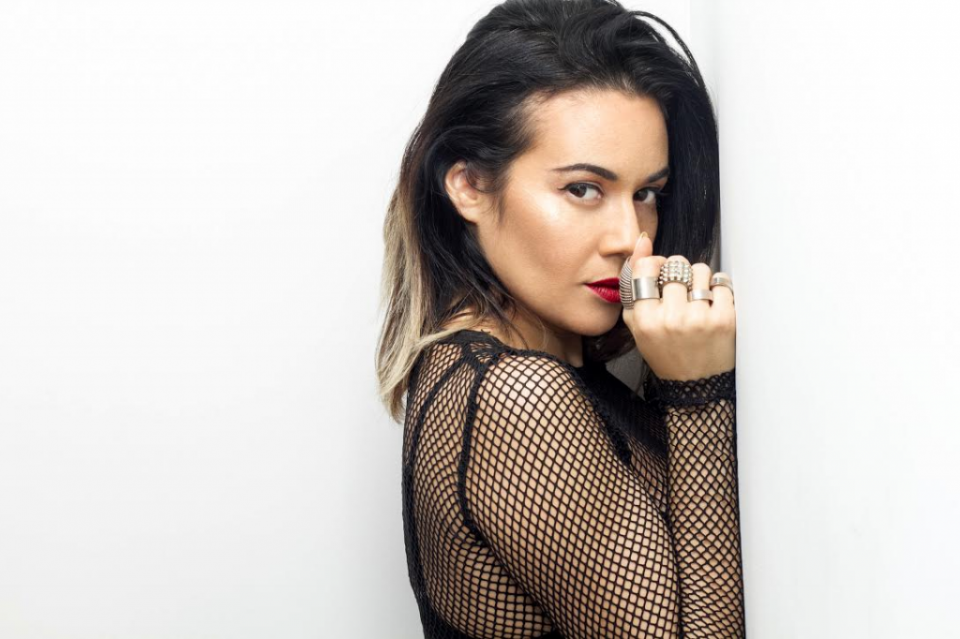 SONI withanEYE is a Queens, New York, born-and-bred DJ and singer who packs a punch fusing hip-hop, rock, funk, soul and new wave. Citing artists like the B-52s, the Beastie Boys and even her father who played everything from the congas to saxophone, as inspiration, the Puerto Rican singer, pianist and guitar player has a style all her own. She honed her skills in church while singing in the choir during her time at Catholic school.
Her new album Rebel, which hits the airwaves on 4/20, is stacked with legends Raekwon, Questlove, Mobb Deep, and Tony Touch. The lead single of the same name features cameos from Natalie of Nina Sky and video vixen Gloria Velez bringing a strong message of women empowerment through visual art and song.  
Hers is a face you recognize because she serves as the face of Cypress Hills' BReal.tv where she hosts the weekly live broadcast "Toca Tuesday."
Here's her story.
When did you know that being a musician was your calling?
Being cast as Dorothy in my grade school production of the "Wizard of Oz." I realized that I was having way too much fun. Felt great to take the audience's mind off of reality as well as my own.
Describe three other occupations you've held.
Bartender/waitress, promotional model and road manager
What inspires you to perform?
It's a form of therapy for me. Being able to express myself through song. Tell my stories as well as others stories or just escape reality.
What instruments, if any, do you play?
I really enjoy mixing records on either turntables or cdjs, a bit of piano since my parents put me into school to learn for a few years, and currently learning how to play guitar.
How would you describe your brand of music?
A mix and mesh of whatever makes me feel good. This particular project I describe as some Hip-Rock with a little bit of funk you up.
Name three musicians who have influenced your approach to being a musician?
David Bowie, Donna Summers and Ray Barretto
What advice would you give anyone preparing to enter the music business about publishing and management?
Always make sure your publishing is registered. If you're looking to manage, make sure your just as passionate about the artist's project as you are.
If you were going to sing for any famous person as a celebration of what they have done for humanity who would it be?
Oprah
What are the effects on society that you would like the results of listening to your music to be?
I would love to bring people together. Have listeners release dopamine which results in good moods. I want listeners to be inspired and inspire creativity, love, positivity, self-love, courage and confidence. We all have an inner bad ass!
What do you like the most about being a musician?
Never gets old or boring. There's always room for growth and experimenting. I love watching how music touches people in different ways and brings people together.
What producers are you looking forward to working with soon?
Looking forward to working with Boddhi Satva, just spoke with him the other day. Stay Tuned! Dennis Ferrer, DJ Premier, more collabs with Quest Love.
Name three musicians you would like to record with who are hitmakers?
Oh, there's way more than three but here goes. Quincy Jones, Pharrell Williams, Linda Perry
What musical achievements have you yet to obtain?
To name a few, performing alongside some of the greats that have inspired my journey, being one of the acts added on to an international festival tour. A Grammy. Performing in places I have yet to discover, Croatia, Africa, China, Colombia, etc.
Finish the sentences:
When I hit the stage I feel …
like I'm having an outer body experience.
When the crowd is responding to my music I know …
I'm where I'm supposed to be.
I appreciate my fans because …
They give me life.
Music is my calling …
no matter how my involvement. Whether I'm deejaying, performing, recording, songwriting, producing, road managing, producing music events, promoting, working at a record label, I would be empty and lost without it in my life.
When you find my music I want you to…
Play it loud and feel good.
Name your favorite two books.
Q: Tthe Autobiography of Quincy Jones by Quincy Jones
Interview with the Vampire by Anne Rice