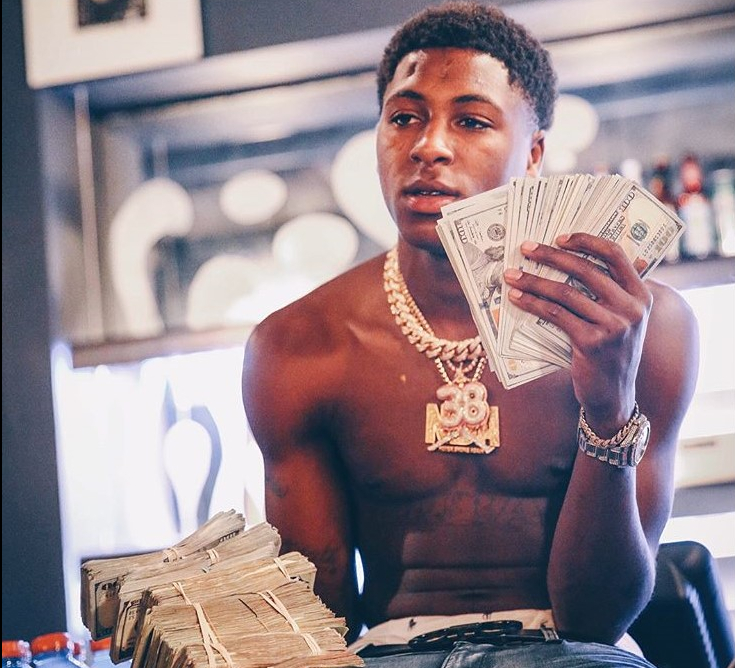 Rapper NBA YoungBoy is finally a free man after being on county lock-down in Waycross, Georgia, for the past three weeks due to the alleged beating of his girlfriend.
But YoungBoy is far from free in his soul.
In fact, the rapper just posted a very alarming message on his Twitter page that has his fans worried about his current mental state and if he has already snapped.
Just need to hurry up in die so this s–t can be over

— NBA YOUNGBOY (@GGYOUNGBOY) March 18, 2018
The Louisiana-based lyricist, who now goes by the name of YoungBoy Never Broke Again, is most likely responding to the fact he may not remain free for very long after a grand jury handed down a two-count felony indictment related to his reported abuse of his girlfriend.
As rolling out previously reported, the "Outside Today" rapper was captured on hotel surveillance cameras slamming his girlfriend to the ground, pulling off her shirt and then holding her against her will in Ware County, Georgia, about four hours southeast of Atlanta. Law enforcement investigators said they also found blood in the hotel room, prompting them to issue a warrant for his arrest. YoungBoy and the girlfriend fled the scene, but he was later apprehended in Tallahassee, Florida, ahead of a scheduled concert there and brought back to Georgia.
YoungBoy might also be worried about the aggravated assault charge from a few years back that's hanging over him like black storm clouds and could play heavily in this current case. The Baton Rouge, Louisiana, rapper served eight months in 2016 for attempted murder charges over his involvement in a drive-by shooting. After pleading guilty, YoungBoy was given a suspended sentence of 10 years, three years of probation, 250 hours of community service, and a $5K dollar fine.
Additionally, Youngboy has several photos like the one above where he alternately brags about his ability to "stack the chips" but also having to fight off the constant hate he receives, indicating he is a man who is rarely, if ever, at peace.
In this latest case of domestic violence case in Georgia, the grand jury came back with felony counts of aggravated assault and kidnapping, despite the protestations of YoungBoy's girlfriend that the couple were merely engaged in horseplay.
Youngboy, 18, was able to post the requisite $75K for his release, TMZ reported
A Georgia judge set a bail amount in the case, three days after bail was initially denied to the rapper, whose real name is Kentrell Desean Gaulden.
Meanwhile, fans and pop culture observers are genuinely fearful for the rapper and they posted messages of support on Twitter.
Do not talk like that . It ain't nothing you can't handle you are the chosen one! Lift your head high . It's just time to handle things like a man!! Bigger you in form you got this ion never wanna see this again!!!

— Sobre mi papel🤞🏽💸 (@FiestyRedhueso) March 18, 2018
You got this man . You know Jania and Ben ain't gone change! This only to make you all closer don't let this make you. . You got this I know your young but you got so many that look up to you , you can handle this!!! Come out on top✨✨ The GOAT❤😘

— Sobre mi papel🤞🏽💸 (@FiestyRedhueso) March 18, 2018
Don't say that, you have 4 kids now do it for them

— shraye williams (@shrayewilliams) March 18, 2018
You just need to pray I promise your time is coming 💯💯 all this hell your going through is almost over with. god has something very special planed for you. Just stay on your knees my dude and watch how everything fall in place💕🙏🏾!!!

— LESHAY💕🦍 (@official_leshay) March 18, 2018
He is just overwhelmed rn it's been a lot going on. He just needs to pray and ask god to forgive him for all the things he has done and also he needs to get closer to god. 💪🏾

— LESHAY💕🦍 (@official_leshay) March 18, 2018
Chill bro u good man god got u fam

— 💂🏽 (@TyLegit_) March 18, 2018
Kentrell no don't ever talk like that 😩 Just think about the positive things you done in life don't dwell on the bad things love 💕

— 🖤👑Queen Shorty 🖤 (@tineka_burns) March 18, 2018
Chill Bro You Got Stuff To Live For #facts

— PJ M.I.A (@PJMIA1) March 18, 2018