Professional wrestling — specifically WWE — is more than just another billion-dollar industry with designs on entertaining the masses through high drama and spectacle. Sure, those are two incontrovertible pillars to their success. But peel back the layers and you'll find that once you push past the corporate machinations, what you begin to see is a wrestling organization that feels more like a family. Within this familial unit sits Trinity Fatu, two-time SmackDown women's champion, and possessor of one serious Glow.
Wrestling under the moniker Naomi, Fatu has successfully turned a once seemingly impossible dream into global superstardom. But to fully understand and appreciate her lofty status within the industry, one has to only start at the beginning of her journey. It is there that we begin our conversation with WWE star Trinity Fatu.
Let's take it back to the beginning. How did you become a professional wrestler?
I actually saw a live show when I was 21, and I thought that it was the coolest thing I'd ever seen. I was amazed by the women at the time. They had a six-girl tag match, and I was just blown away. Right then, I knew that it was something I wanted to try and experience. Then, from there, I got a tryout, and I've been here ever since.
You've experienced firsthand the mania that surrounds WWE and wrestling as a whole. Just how passionate are the fans?
It's amazing because wrestling is global. No matter where we go in the world, it brings in the same love and response everywhere. It brings in so many different diversities, and people from different walks of life. It doesn't matter if you're old, young, male, female, [there are] so many people who can relate to wrestling because it's so colorful. There are so many characters, and so many stories that people can relate to. Also, it's entertaining. Being able to travel across the world and meet all the different fans is super rewarding.
[cigallery]
Were there risks involved when you initially decided to take the leap into professional wrestling?
I took a huge risk. At the time, I was an Orlando Magic dancer, and I was going on my third year. It was then when wrestling was introduced to me. I took a chance, packed up all my stuff, and moved away from home. My mom was wondering what was going on with me because since I was 8 years old, I trained in dance classes, won numerous awards in tap, jazz, ballet, hip-hop, and modern, so my mom thought I was going to go to Alvin Ailey and have a career in dance. I did too, but when I saw wrestling, all that changed. I moved to Tampa, [Florida], then started from scratch. The first couple of months were really tough because I was doubting myself. The physical strain it puts on your body was hard. From the body slams to bumps, they say it's like a mini car accident every time we get hit. But I had a great support system, and I toughed it out and I'm here now.
You mentioned toughing it out. I've heard other wrestlers describe a process that can take months or years to get your break. Was your experience similar?
Well, I can tell you it wasn't real quick. When I first started, I got signed to a developmental contract and I went through the process of learning everything I needed to learn to be a professional wrestler. Even after that, there's no guarantee that you'll make it on TV and get offered a professional wrestling contract. So it's a hustle, definitely a grind. I was in developmental for two years doing local shows in front of 10-50 people in gyms and local facilities. I got my big break with my former partner Cameron, and we debuted for Brodus Clay, and that's how I made my debut almost 2 1/2 years ago.
Were there times when you doubted yourself?
There were times when I got discouraged because I would wonder when I'm going to debut or be on TV. There were some girls who came in for only a few months and got on TV, some people get fired after a couple months, some people stay in developmental for three, four, five, years. I definitely was trying to find my niche. I was trying to figure out how I was going to stand out and set [myself] apart. Being an entertainer and putting that stress on yourself can be hard, but I didn't give up.
https://www.youtube.com/watch?v=p5fyDZTG56I
What was it like the first time you walked into an arena with thousands of people screaming your name?
The crazy thing is, I was way [calmer] performing in front of thousands than performing in front of a handful of people. I was so ready to perform. I knew that that moment was the result of everything I had been working for, and I was pretty confident. It wasn't as nerve-wracking as I thought it would be. It was fun, and I was able to soak it all in and enjoy the moment.
How has it been trying to make a name for yourself as a Black woman in such a diverse industry?
Just knowing the history of WWE, I know there haven't been a lot of African Americans that have come through and been successful. But there are women who have done amazing and inspired me. I think it's been more challenging as a woman because it is a male-dominated industry, and it's been that way for a long time. I feel like the great thing about WWE is that if you're talented and can connect with the audience, you will get there. No matter what you look like, if you have the talent, you'll get there.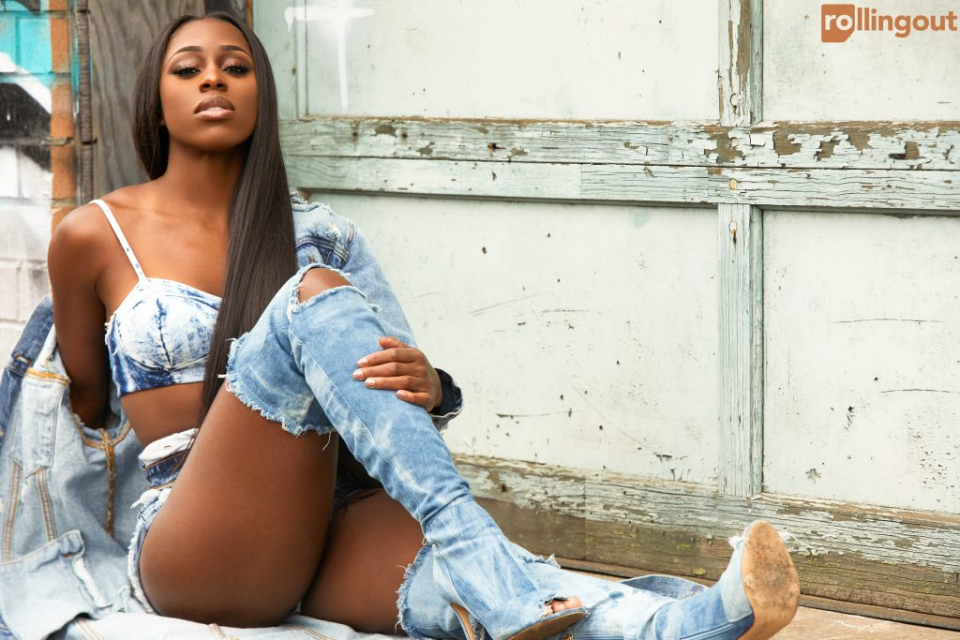 What is it about you that you think people connect to?
I think I come off very real. All my characters are real. Instead of me creating a persona, I used the personas and experiences that I already knew in my life. That's what got me to my championship. I am now the two-time Smackdown Women's Champion. I am the longest reigning Smackdown women's champion, and I am the first African American Smackdown women's champion. So, I think the Glow is about believing in yourself, it's about positivity, and it's colorful, exciting, fun, and it's me.
The way you describe it, the glow feels like a total lifestyle for you.
This isn't just a gimmick for me. I really live by this phrase. Throughout my career, I really got down on myself and was lacking the positive mindset, but the second I changed that things started to change. The Glow is just about not giving up and finding that light in those dark times. You have to find that light in every situation. It's always there. I live by that, and I think it translates in my performance, in my entrance, even when I interact with people. I think they get it.
How can we convince others to adopt the "glow" mindset in a world that feels so decidedly negative?
I think it's so hard because social media is taking over the world, and it makes it way easier for people to be negative toward others. When I first started, we didn't have Instagram, but to see it now, and know that things like our comments and followers matter, it's crazy. It's the times we live in, so you just have to know how to stay grounded, and surround yourself with good people who will push you to be better, and not drain you. What's most important is living a good, positive life.
https://www.youtube.com/watch?v=qpxjBe1mbQ4
How are you able to do your job at such an incredibly high level, while also living your life to the fullest?
It's hard just because of our schedule. Being away from my family is hard, but we know that what we're doing now is going to benefit them later. Having my husband helps especially since he wrestles too. We just have each other's back, and continue to support each other.
What advice do you give to women who look up to you?
My favorite quote is, "Don't follow your dreams; chase them." Life is short, and we all have dreams or aspire to be somewhere or be someone. I just encourage people to live their best life.
Are there passions for you outside of wrestling?
I'm really passionate about music. I put out a single called "Dance All Night," and my fans loved it. I have a passion for music that I would love to explore. I would also love to have my own hair and makeup line, and I want to have kids one day. Not now because I'm in the ring, but definitely one day.