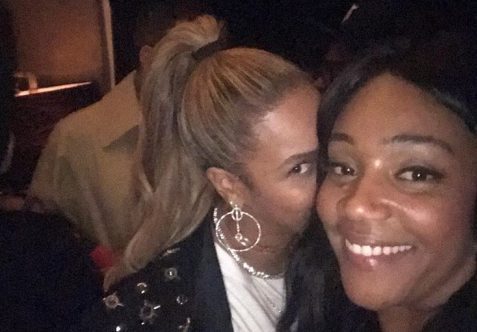 Comedic actress Tiffany Haddish is going to need Secret Service-level clearance before she is ever allowed within the same ZIP Code as Beyoncé after once again spilling tea about that exclusive party that produced the above famous selfie.
The meteoric rising comedian, who met Queen Bey at a New York party, but then was severely rebuked by the Bey Hive for spilling tea to Vulture about Beyoncé's husband Jay-Z being approached by a thirsty actress who put her hand on his chest.
In fact, many people believe that the line in the song "Top Off" — about people needing to sign nondisclosure agreements before they hang with Bey — was directed at Haddish for being unable to keep her mouth shut about what she witnessed in exclusive, private settings with Beyoncé.
In a new profile in GQ, Haddish spills even more tea about that night spent with Beyoncé.
"There was this actress there," continues Haddish, keeping her voice low, "that's just, like, doing the mostest. She bit Beyoncé in the face."
Haddish still refuses to name the actress.
"I absolutely cannot comment on any of this, as I have no knowledge," Beyoncé's representative, Yvette Noel-Schure, told GQ mag looking for confirmation.
"So Beyoncé stormed away," Haddish continues with GQ, "went up to Jay-Z, and was like, 'Jay! Come here! This b—- —' and snatched him. They went to the back of the room. I was like, 'What just happened?' And Beyoncé's friend walked up and was like, 'Can you believe this b—- just bit Beyoncé?' "
"And so then …," she continues, "a lot of things happened."
Haddish says she and the actress kept running into each other throughout the night, ending in a brief standoff. The actress even told Haddish to stop dancing.
"And then Beyoncé and Jay-Z walked by me, and I tapped Beyoncé."
Haddish says she told Beyoncé, "I'm going to beat somebody a– at your party. I just want to let you know that." Beyoncé asked her not to— told her to "have fun" instead. (Haddish leveraged this moment into a selfie with Beyoncé.)
"Near the end of the party," says Haddish, talking about her final brush with Beyoncé sometime later said, "Beyoncé's at the bar, so I said to Beyoncé, 'Did she really bite you?' She was like, 'Yeah.' I was like, 'She gonna get her a– beat tonight.' She was like, 'Tiffany, no. Don't do that. That b—- is on drugs. She not even drunk. The b—- on drugs. She not like that all the time. Just chill.' "