Tyree Smith is determined to highlight the art culture of Atlanta. After years in the party promoting business, Smith transitioned to the art scene after noticing a scarcity of the celebration of art in Atlanta.
Now, ARTlanta is at the forefront of pushing the culture forward in the A and is set to have its first ever ARTlanta fair, a fully equipped carnival celebrating the arts, April 12 to 15.
Smith sat down with rolling out to discuss the origins of ARTlanta.
You're a founder and entrepreneur but who is Tyree Smith?
I'm a father first, a fan of art, and [fan of ] the youth and putting them in positions and using my opportunity to create opportunities for others.
What exactly inspired you to start ARTlanta?
I threw parties throughout the city for years and I realized that I needed to do something different. I was partying every day and pouring alcohol down this person's throat but I really wasn't getting anything out of it and it wasn't anything but f—ery that comes within the Atlanta scene. I have a daughter and she's always complaining about how they are taking art out of the schools and I wanted to do something to mesh the two together and I came up with the ARTlanta gallery. I recognized that there's a renaissance happening within the city much like what happened in Harlem back in the day. I wanted to create a hub and a safe place for creatives to come together and create, and purchasers of the art can also come together in that same space.
Talk  about the ARTlanta fair
The ARTlanta Fair is a four-day art fair. We have art, rides, food, music. It's in the heart of southwest Atlanta at the historic Fort McPherson. It's going to be crazy! We're going to have Ferris wheels, carousels, funnel cakes and all the good stuff you see at a [traditional] fair. We're also focusing on the art to show the city that there's something more to us and to put my people on a platform to shine — especially in the arts. We're going to have so many visual artists like Miya Bailey, Fabian Williams [and]  EuGene V Byrd III. We also partnered up with our nonprofit partner, The Book Bank Foundation, and we'll be doing installations with them during the art fair along with an art drive. If you bring in art supplies on that Sunday with you, you'll get into the fair for free. We're sponsored by Courvoisier and Effen Vodka, so shout-out to them and it's going to be crazy. It's something the city has never seen before and it's something that's needed to put us on that platform so [Atlanta doesn't] look like we're all music and sports.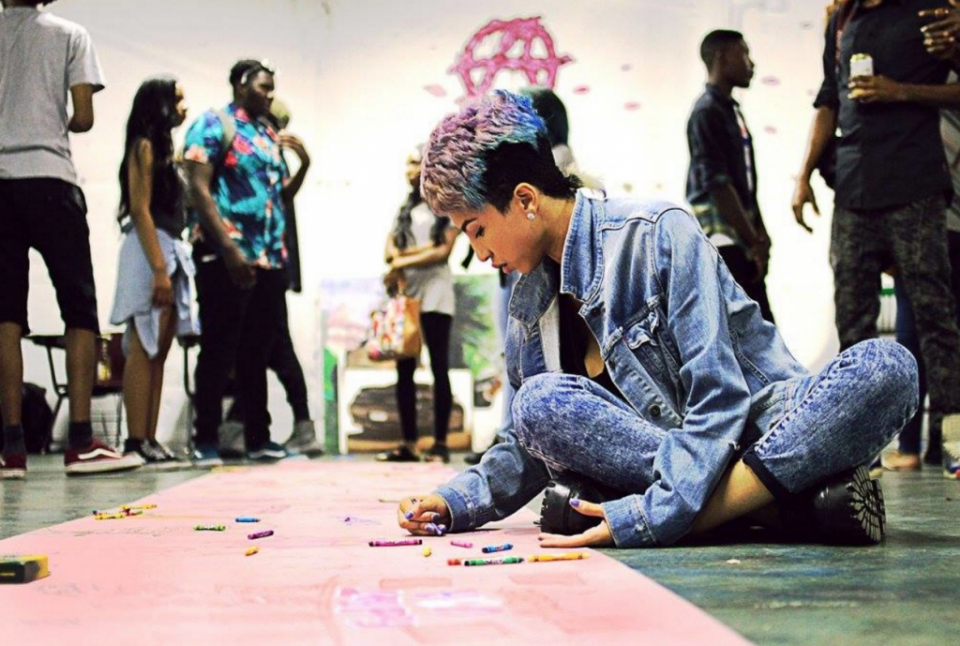 There's a lot of gentrification happening in southwest Atlanta. What is the purpose of you having the fair in that area?
There's not a lot of awareness of what's going on, especially in our community. I think that's what my job is to bring awareness to what's going on so people know the value of their community and not to move out. I'm on the Marta Art Council and that's for community engagement to make sure the locals know what I'm doing and I'm also on the Beltline ArtJour and that's to make sure that the locals know what we have going on in the city. That's the same thing that I'm doing with Fort McPherson.
I see that you are tatted. What's one of your favorite art mediums?
Tattoos [are] definitely one of them and I did tattoos for a while. A friend of mine opened up a shop called Infamous Tattoos and I worked there for some years and helped build with him — shout-out to Nitty and Infamous Tattoos. One of my biggest inspirations for the arts is Miya Bailey, who is a tattoo artist and a friend of mine. A tattoo is just human skin being the platform for the art. I did music and was signed to Colombia Records so that aspect of art I'm also into — but I just like art period. It doesn't matter if you dance, design cars or sneakers, do oil and acrylic, fine art. I'm just into anything that's creative.
What does art do for you?
It gives me a value and tells a story to me. Art is like the last free form of expression that we have. You can paint a picture and put that up and no one can argue with it, it's just there. It's purposely taking your imagination to take one thing and make it something else and I dig that.
As an entrepreneur, what are some challenges you have faced?
Money. It's not a cheap thing to do. Just figuring out fundraising aspect and dealing with the political things that come behind that. I'm just used to throwing a party but now I have to go speak to the [city] council or the mayor, or I have to go in front of NPU meetings. Things that I'm not normally used to doing. I don't mind the challenge but that's definitely been something I've had to get used to.
How do you manage to look so young while under the pressures of entrepreneurship?
I think once you find out what you love doing no skin will crack, you know? I think that's why Ellen [DeGeneres] looks so young because once you find what you're supposed to do, you just stop aging. Mark Twain said the two most important days in a man's life are the day he was born and the day he realizes why he was. Once you realize that — you stop aging. When I first got here in Atlanta in 2000, I looked way older but once I found my lane and I started doing it, I stopped aging.
How can people follow you on social media?
You can find us on social media @ARTlantagallery on Twitter, Facebook, Instagram and for info about the fair go to www.artlantagallery.com/fair. The fair is April 12 – 15. Don't miss it — it's going to be crazy!