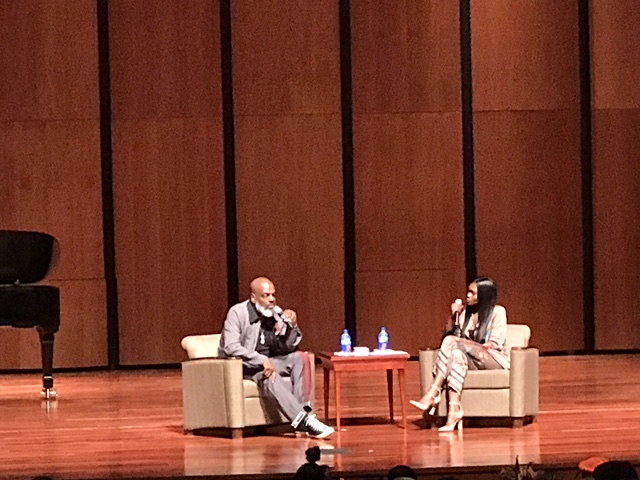 "If you ain't walking the streets and touching the people, then you're not in the game."- Coach K
These are the words from one of the most respected businessmen in the music industry. Coach K knows quality music and talent. He has managed some of the biggest names in the hip-hop world including Gucci Mane and now Migos and Lil Yachty.
Coach K has an eye for talent and brings hip-hop's youth to the forefront. With Quality Control being one of the most notable record labels in Atlanta, Coach K had the unique opportunity to sit down with Amber Grimes, a senior manager at Spotify, to discuss the importance of being in the culture to produce quality sound.
For those pursuing a career in the entertainment world, especially as an artist, Coach K insisted that you "take that risk." He reflected on having a potentially huge record work on the urban radio that could put his company on the map. At first, he hesitated because it required substantial funds, but Coach K took a leap of faith and now the label is known for producing hit records and huge artists.
However, those risks have to be carefully calculated. "If it's there and in front of you, don't be scared to take it," Coach K said.
Grimes added that the risk comes with the passion for what someone loves to do. While taking a chance for a promising career, life lessons are learned about the industry.
"There is no book that can teach you about this business," said Coach K.
With  21 years in the game, Coach K admitted that it's been a roller coaster ride of peaks and valleys. But he still hopes to share what he has learned from his mistakes, lessons, and triumphs with the youth in a book he aspires to write one day.
Triumphs, Coach Kever explained, do not mean that an artist or someone who wants to succeed in the business can become complacent. One must always want success. For Coach K, there is no top.
Along with keeping up with the forever-changing sound of the music industry, Coach K said that one must be in the culture to know the culture. To keep his artists at the top of their game, the mogul stays up to date on the latest dances and slang.
No wonder the Migos are crushing the rap game. Recalling how he became the manager of the Migos, Coach K remembered having his intern drive him to Gwinnett to Quavo's mom's basement to listen to "Bando."
"I heard some of the most amazing music that I haven't heard in a long time," he said.
Thanks to the rise of the Migos, Coach K gives them props for shifting the culture of music. He also mentions that this is one of the reasons their albums were named after culture.
Along with Migos comes the self-confident rapper Lil Yachty.
"Lil Yachty knows how to sell his vision, so it was like a perfect marriage when he signed to Quality Control," said Coach K.
With Yachty wanting to be the modern version of Will Smith, the free-spirited rapper has been seen doing big things with brands such as Sprite, Finish Line, and Adidas while working on his film career.
Doing it for a cause and not the applause, Coach K hopes to be an inspiration for young Black entrepreneurs.
"If you set your mind to it, you can do it," said Coach K.
Building a strong team, learning, and staying in the game are critical lessons from the masterclass to obtain success in the industry.