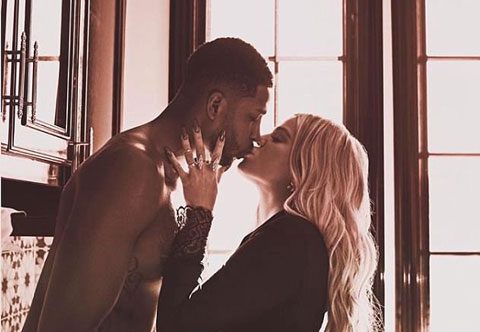 As Khloe Kardashian reportedly suffered a nervous breakdown after being crushed and humiliated over her boyfriend Tristan Thompson's brazen cheating, and as her brother Robert Kardashian Jr. begs her to leave the philandering NBA baller, the youngest Kardashian sister is said to be living at a very interesting and strange place, given the circumstances:
Tristan Thompson's house in suburban Cleveland.
According to multiple media outlets, which seem to be obsessed with Khloe Kardashian's, 33, and Thompson's fractured relationship, the couple's state of affairs is said to be in shambles, in spite of their efforts to show a united front publicly.
Sources close to the mega-rich reality show family tell TMZ, Kardashian has not spoken to Thompson, 27, for several days because she's still furious after finding out he was spotted with different women very publicly and even took one of them back to his hotel room.
Despite this, Kardashian is still chilling in Thompson's spacious home.
People magazine said that despite the fact Kardashian has not moved out of the home they share, the relationship is barely hanging on.
Kardashian is trying to enjoy the arrival of the couple's first child together, True Thompson, and Kardashian is also said to be putting on a brave face for the cameras. Despite Khloe's sister's penchant for cheating on their men, particularly Kim Kardashian, who cheated on ex-husband Kris Humphries to be with Kanye West, the sisters of Khloe Kardashian are said to be irate at Thompson.
However, Kardashian and True Thompson are staying at Tristan Thompson's house in Cleveland temporarily, mainly because the very expensive and extensive nursery that is there. The publication goes on to say that the couple has not been alone together for many days, and not since Kardashian was discharged from the hospital following the birth.
The family members that came include matriarch Kris Jenner and the two other Kardashian sisters, who are all still in Northeast Ohio. That will soon change, TMZ was told. Once Khloe Kardashian receives medical clearance, she will bolt from the Cleveland home with a quickness and dash back to the West Coast.